World's 12 best water parks
Tamara Hinson | 8/1/2013, 9:16 a.m.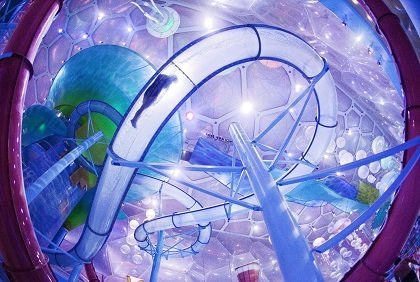 CNN — Some of us are lucky enough to live within a rogue inflatable ball's reach of the world's best beaches.
Some of us can paddle out for a ride on the greatest waves on a whim.
For those of us who live further inland, or prefer something less salty, there are still watery joys to be had, in the form of the world's best water parks.
Aquatica (Orlando, Florida)
One enormous wave pool obviously wasn't enough for the team behind Aquatica, so they built two, side by side.
Elsewhere, the Dolphin Plunge water slide takes passengers on a white-knuckle ride through a dolphin-filled aquarium and riders brave enough to take on the Omaka Rocka blast down a series of flumes and funnels.
There's a sandy beach covered with 1,360 tons of soft, white sand and South Seas-inspired gardens with more than 60,000 species of plants.
Aquatica, 5800 Water Play Way, Orlando, Florida; +1 888 800 5447
Aquaventure Waterpark (Dubai, UAE)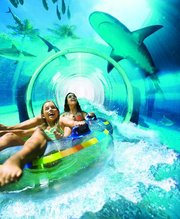 As of 2013, this Middle East water park is home to the world's widest water slide, the Middle East's longest river ride (2.3 kilometers in length) and the Middle East's longest zip line.
The park's other attractions include several water coasters, a 2,296-foot-long (700 meters) private beach and the Shark Lagoon, where visitors can hand-feed rays.
Aquaventure, Crescent Road, The Palm, Dubai, UAE; +971 4 426 0000
Area 47 (Innsbruck, Austria)
An Alpine lake is the location for this outdoor water park, which opens from April to the end of September.
There are water rides, a diving tower and a hydro-speed slide.
On dry land there's a high-ropes course, bridge swing and climbing wall.
Area 47, Ötztaler Achstrasse 1, Ötztal Bahnhof, Austria; +43 5266 8 76 76
Beach Park (Fortaleza, Brazil)
Beach Park's most famous ride is Insano, which ranks as the world's tallest (135 feet/41 meters) and fastest (65 mph/104 kph) water slide.
Equally petrifying is Kalafrio, a giant half-pipe slide.
Younger visitors can check out an enormous big top-themed play area or the Acqua Show, with water cannons, synchronized water jets and eight water slides just for kids.
Beach Park, Rua Porto das Dunas, Fortaleza, Brazil; +55 85 4012 3000
Caribbean Bay (Gyeonggi-do, South Korea)
You'll find four looping water slides and an enormous wave pool at this South Korean water park, alongside more traditional attractions such as hot spring pools.
Exhausted visitors can power nap in one of the water park's sleeping rooms, which have purified air and beds carved from energy-boosting jade.
Caribbean Bay, 310 Jeondae-Ri, Pogok-eup, Cheoin-gu, Yongin-si, Gyeonggi-do, South Korea; +82 2 759 1940 7
Siam Park (Tenerife, Spain)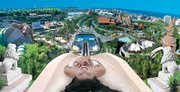 Siam Park is a Thai-themed water park on the island of Tenerife.
The park's most popular ride is the 91-foot-high (27 meters) Tower of Power, on which riders plunge down a vertical drop before shooting through an aquarium filled with stingrays and sharks.
A lazy river and surf lessons in the park's wave pool offer slightly more sedate activities.