Can men and women be 'just friends?'
Two friends from New York City decided to try dating -- and blog about it
Sarah LeTrent | 8/6/2013, 12:15 p.m.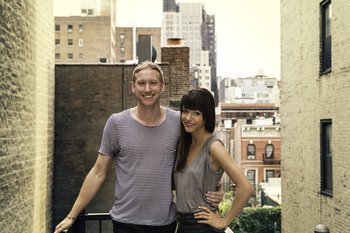 continued — Walsh: I had wanted it for a while. I was just like, "Let's try this." We both admitted on day two of the therapy that there was attraction, there was some interest. Tim was the one that was super scared because his issues are quite real. We had a great friendship, so he was very, very hesitant -- but it was confusing for me because he would be flirtatious.
CNN: So, do you think men and women can ever be just friends?
Goodman: I have girlfriends that I consider just girls who are friends now, but it's only because I've been with them before or they're in a relationship so you don't have to even think about it. If you asked me a couple of months ago, I would've said yes. In one of his stand-ups, Chris Rock said every platonic friend that he had was someone he was trying to sleep with, made a wrong turn somewhere and ended up in the "friend zone." I think there's truth in that. A man always has a motive.
Walsh: I do.
CNN: Well, what happened?
Goodman: I will say that I feel forever linked to her. I have this kinship with her because of it, regardless of what happened or if we're together or we're not.
The-CNN-Wire
™ & © 2013 Cable News Network, Inc., a Time Warner Company. All rights reserved.