"Pathways to Peabody" Music Scholarship Program
Ursula V. Battle | 8/9/2013, 6:33 a.m.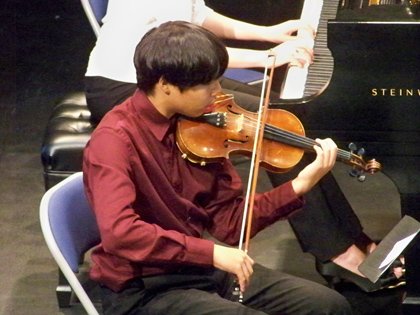 BALTIMORE — Rey Sasaki has been playing the violin since he was four. In the fall, the 13-year-old Lutherville resident will get the opportunity to receive thousands of dollars in music training for free at the highly regarded Peabody Institute.
"The grant will help me learn the way I should practice my violin," said the talented student. "The grant also lets me have many opportunities to perform such as in master classes, group class concerts, and orchestra concerts."
Rey, who found out about the program through his mother added, "I am very excited. It shows how much I have accomplished so far, and how hard I had worked for it."
Rey is among the first students to be accepted into "Pathways to Peabody," a new program at Johns Hopkins University's Peabody Institute. Lillian Naill a 12-year-old violinist from Baltimore, who attends Bryn Mawr, has also been accepted into the program.
Peabody was one of two music schools in the country to receive a renewable $250,000 "Widening the Stage" grant from the Virginia-based Jack Kent Cooke Foundation, which helps exceptionally promising students reach their full potential through education. It was established through the will of the late businessman and philanthropist Jack Kent Cooke, the former owner of the Washington Redskins, the Los Angeles Lakers and the Los Angeles Kings.
"Pathways to Peabody" targets young people from low-income families in Baltimore City, Baltimore, Anne Arundel, and Howard counties who, with proper training, have the potential to succeed in careers in music. Starting this fall, the program will provide full-tuition scholarships for 35 singers, pianists, string players and other classical and jazz instrumentalists, ages 12-17, to join the Peabody Preparatory's performance academies.
"Peabody has a long and storied history," said Gavin Farrell, interim dean of Peabody Preparatory. "However, there are many who don't know about us, and then there are those who know our reputation, but believe it is so strong they can't afford to come here. One of the things we were looking to do when we applied for this grant, was to break down those barriers and bring in students who thought it would never be possible for them to come here."
Located in the heart of Baltimore's Mount Vernon Cultural District, the Peabody Institute was founded in 1857 as America's first academy of music by philanthropist George Peabody. Today, Peabody boasts a preeminent faculty, a nurturing, collaborative learning environment, and the academic resources of one of the nation's leading universities, John Hopkins. Through its degree-granting conservatory and its community-based preparatory music and dance school, Peabody trains musicians and dancers of every age and at every level, from small children to seasoned professionals.
The Peabody Preparatory, a division of the Peabody Institute, has devoted itself to a two-fold mission. It offers gifted children and adolescents the opportunity to realize their highest potential as leaders of the next generation of performing artists. In addition, it provides an education in music and dance to all members of the community who desire it, regardless of age, professional intention, or previous training.