Cory Booker becomes Democratic nominee for N.J. Senate seat
Ashley Killough | 8/14/2013, 12:22 p.m.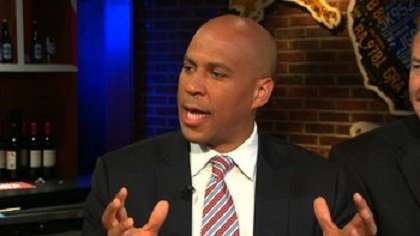 continued — He has said publicly that if elected to the Senate, he would step down from the board of Waywire and put his shares in a blind trust. He would prohibit Waywire from lobbying his office and prohibit his staff from doing any work on the company's behalf.
"Everybody knows that Mayor Booker is excited about technology and what it can do to empower real people," campaign spokesman Kevin Griffis said in a statement. "He invested in an idea and helped get a business off the ground, and a lot of people found that idea compelling."
Christie called the special election after Democratic Sen. Frank Lautenberg passed away in early June. While a Republican interim senator--appointed by Christie--currently holds the seat, it has been expected a Democrat would win the special election in the largely blue state.
At the top of his victory speech Tuesday night, Booker first acknowledged Lautenberg's legacy. "He has made us safer and healthier. We are a better state and we are a better America because of Senator Frank Lautenberg."
The winner of the October 16 race will finish out Lautenberg's term through 2014, and the winner can run for a full term next year.
The nonpartisan political handicappers Stuart Rothenberg and Charlie Cook both rate next year's Senate race in New Jersey as solid or safe for Democrats.
Christie was criticized earlier this summer when he set the oddly-timed date for the special election. Rather than scheduling the special election to fall in line with the already-set gubernatorial election in November, Christie set the special for October.
Critics pointed to the extra costs to taxpayers for a separate election, but the governor stood by his decision, saying New Jersey voters deserved to have an elected official in the Senate as soon as possible.
CNN's Jim Acosta, Kevin Liptak and Paul Steinhauser contributed to this report.
The-CNN-Wire
™ & © 2013 Cable News Network, Inc., a Time Warner Company. All rights reserved.