Jesse Jackson Jr. going to prison; says he 'manned up'
Wife gets a year in jail; weeps at sentencing
Dan Merica. Larry Lazo and Leslie Bentz | 8/15/2013, 9:07 a.m.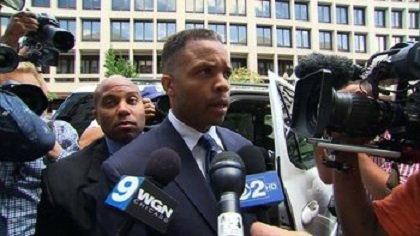 WASHINGTON (CNN) — Former U.S. Rep. Jesse Jackson Jr., once a rising Democratic star whose political fortunes imploded over the use of campaign finances to support lavish personal spending, was sentenced to 30 months in prison on Wednesday.
"I misled the American people," Jackson, 48, said before U.S. District Judge Amy Berman Jackson imposed the term, which also included an order for restitution and community service.
The ex-Illinois lawmaker's wife, Sandi, received a 12-month sentence for her role in her husband's misuse of roughly $750,000 in campaign funds over several years.
"I don't have to tell you this is a very sad day and a very difficult case," Judge Jackson said, calling it an example of organized and joint misconduct and a violation of the public trust.
"You knew better," she said.
As the judge read her sentence, Sandi Jackson wept. Her husband smiled slightly when he received his punishment, which was less than what the government sought.
The pair pleaded guilty in February to various charges -- Jackson to one count of conspiracy to commit wire and mail fraud, and false statements; and his wife to filing false tax returns.
After the hearing, Jackson acknowledged his failings and hoped for a renewal.
"I still, believe in the power of forgiveness. I believe in the power of redemption. Today I manned up and tried to accept responsibility for the error of my ways," he said before climbing into a waiting vehicle.
Vacations, furs and memorabilia
A smooth politician and the son of a civil rights leader and one-time political heavyweight, the younger Jackson admitted to using campaign money to pay for things such as vacations, furs and Michael Jackson memorabilia.
In a statement read in court, Jackson said he wanted to be held accountable for his actions and he knew what he did was wrong.
He also asked the judge to not punish his wife for what he said "was a subset of what I did."
"I ask that my kids not suffer from my actions," Jackson said of his two children, 9 and 13. "If probation is not available to my wife, give me her time."
Jackson's lawyers reiterated that sentiment and asked the court for an 18-month sentence for Jackson and probation for his wife.
"This is not Madoff," Reid Weingarten, Jackson's lawyer, said in court, referring to notorious Wall Street swindler Bernie Madoff. "There was no Ponzi scheme."
Sandi Jackson sobbed through part of her courtroom statement and said she "put her family unit in peril" for filing false tax returns.
"I stand before you today asking for mercy," she said. "My heart breaks every day with the pain it's caused my babies. I ask the court for mercy."
Prosecutors had sought a four-year sentence for Jackson and 18 months in jail and restitution of $168,550 for his wife.
"This is a sad day that involves a waste of talent," prosecutor Matthew Graves said. "They were in the top 10 percent of household earnings in the United States. There's just no need for this kind of conduct."