Many events planned for March on Washington
George E. Curry, NNPA Editor-in-Chief | 8/16/2013, 6 a.m.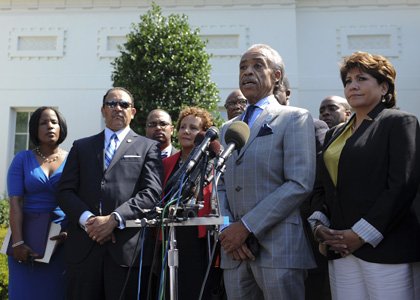 continued — Regional/State-Based Organizing Strategy Sessions
9:00 am – 9:00 pm
National Education Association
1201 16th Street, NW
Washington, D.C.
Hosted by National Coalition on Black Civic Participation, NAACP, NEA, Generational Alliance, NAN Youth Move, The Praxis Project, NUL Young Professionals, Alpha Phi Alpha Fraternity, Inc., BK Nation, 100 Black Men of America, Omega Psi Phi Fraternity, Inc.
To register go to www.ncbcp.org
"Covering Civil Rights: On the Front Lines"
7 p.m. Newseum, 555 Pennsylvania Ave NW, Washington, D.C. The Newseum, in partnership with the National Council of Negro Women, will host a free evening program that will include a special appearance by Elder Bernice King, chief executive officer of The King Center and daughter of civil rights leader Martin Luther King Jr. and Coretta Scott King. Rev. King will receive the NCNW's 2013 Leadership Award. Moderated by Sirius XM radio host, Joe Madison, the event will also feature a discussion with journalist and author of Shocking the Conscience: A Reporter's Account of the Civil Rights Movement, Simeon Booker, who was on the front lines of covering the civil rights story. The program is free and open to the public, but seats are limited and must be reserved at CoveringCivilRights.eventbrite.com.
Friday, August 23, 2013
Redeem the Dream National Summit & Reception
8:00 am – 2:00 pm
National Building Museum
401 F Street NW
Washington, DC
Hosted by National Urban League
Open to the publicNational Town Hall Meeting on Poverty & Economic Empowerment
Moving Together, Moving Forward: Jobs and Freedom
57th Annual SCLC International Convention Race & Poverty Panel 2:00 pm -4:00 pm
Voting Rights Panel 5:00 pm – 7:00 pm
Grand Hyatt, 1000 H Street, NW, Washington, DC Open to the public
Hosted by Southern Christian Leadership Conference, SCLC Poverty Institute, Rainbow PUSH
Saturday, August 24, 2013
50th Anniversary March on Washington National Action to Realize the Dream March and Rally for "Jobs, Justice & Freedom."
8:00 am – 4:00 pm
Lincoln Memorial
Washington, D.C.
National Conveners: Martin Luther King, III and Al Sharpton, National Action Network
Co-Convened by: National Conveners: National Action Network AFSCME, AFT, AFL-CIO, APRI, HRC, LCCR, NAACP, NBJC, SCLC, SEIU, NCBW, NOW, NUL, NCNW, NCBCP, The King Center, National African American Clergy Network and CWBI.
Among the speakers are Al Sharpton, Martin Luther King, III, Charles Steele, Jr. the families of Trayvon Martin and Emmett Till; and Congressman John Lewis. Open to the public
Sunday, August 25, 2013
SCLC Worship Service
11:00 am – 1:00 pm
Howard University
Washington D. C. Convention Center
Hosted by SCLC. Open to the public
Monday, August 26, 2013
Legacy and Leadership Gala
Time: TBD
Capital Hilton
1001 16th St NW, Washington, DC
To register go to: www.sclc.org
Hosted by Southern Christian Leadership Conference