10 Secrets of 'The Butler'
Oprah Winfrey refused to film a scene in her underwear
Jane Caffrey | 8/19/2013, 6 a.m.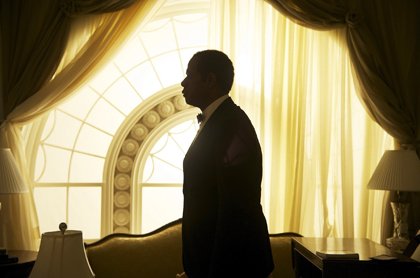 continued — Set secret No. 4: Cuba Gooding Jr. jumped into a pool sans swimsuit at a 'Butler' kick-off party
Daniels says his lips are sealed about many of the behind-the-scenes moments on the set of "The Butler." Yet he does indulge in one story about a raucous launch party.
"Cuba, Cuba ... " Daniels reminisced. "At our opening party for the cast, Oprah was there and everybody was there, and Cuba decided to jump into the pool naked. Let's just say that was the beginning of "The Butler." Oh, "Lee Daniels' The Butler."
Set secret No. 5: Oprah Winfrey took Daniels' direction with a smile ... until he asked her to get into her underwear
Daniels said he felt very protective of Oprah Winfrey on the set, as she readily took his direction and allowed herself to become vulnerable. But the duo did clash once: when Daniels asked the Big O to bare it all.
"I had her in her bra and panties," Daniels said. "She was like 'No!' And I said 'Oh, OK.' I would have fought her on it, but the only reason why I didn't is because it was a PG-13 movie. 'You win.' "
Set secret No. 6: Terrence Howard thinks he and Oprah have chemistry
Terrence Howard and Oprah Winfrey share a hot and heavy scene in "The Butler," and Howard brags they teamed up well on screen because they have chemistry in real life too.
Making out with Oprah, he said, is "the greatest dream for any man. A guy can get the the prom queen, but to get Miss America or get Miss Universe? That's the notch in the belt." But really, he insists, "She was into me! She had to approve me in that role. You're not going to pick somebody to kiss and have a closeness like that with, that you don't have a potential attraction for!"
Set secret No. 7: James Marsden faced incredible pressure to get his JFK accent right
To prep for the enormous task of playing John F. Kennedy, James Marsden kept podcasts of the president's iconic speeches on his iPod, which he listened to as he went to sleep. The actor said getting the accent right was crucial in accurately portraying Kennedy.
"That was a really defining part of Jack: his accent," Marsden said. "It wasn't necessarily Boston -- it was a little bit of New York, it was all these things mixed in. It was the Kennedy accent. And I knew that was going to be the barometer by which you're measured. And then beyond that you just hope to bring something else that you might not have ever seen -- capture sort of his essence, his intelligence, his charm. But I knew that all those other pieces would not have fallen into place if you did not have the accent."
Set secret No. 8: Yaya Alafia nearly vomited after being spit on during a dinner sit-in scene
When Yaya Alafia played a black college student engaged in a sit-in at an all-white lunch counter, she was actually spit on by another actress during filming. Alafia reveals she had an overwhelming reaction to the degradation.