7 ways to interact with Garífuna culture in Belize
Drums -- both playing and making them -- are the heart of Garifuna culture
Lebawit Lily Girma | 8/21/2013, 6 a.m.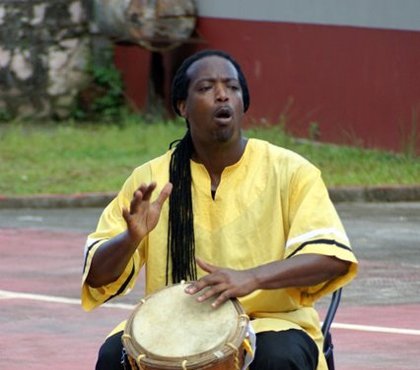 continued — Luba Garífuna Museum, 4202 Fern Lane, corner of Jasmine and Mahogany Streets, Belize City; +501 202 4331; Luba_Garifuna@yahoo.com; 8 a.m.-5 p.m.; $5
Gulisi Garífuna Museum in Dangriga, Mile 2 on Hummingbird Highway, Belize City; +501 661 0720; gulisimuseum@yahoo.com; Monday-Friday 10 a.m.-5 p.m, Saturday 9 a.m.-noon; $5
Barranco Culture House, village of Barranco, two hours' drive from of Punta Gorda, in Toledo District
2. Sample traditional Garífuna dishes
Traditional dishes consist of cassava, fish, coconut and mashed plantains.
In every Garífuna kitchen you'll find cooking utensils such as coconut graters, mortar and pestle and other tools reminiscent of West African ancestry.
At Hopkins Village, several eateries offer traditional dishes in an effort to expose visitors to local cuisine.
A typical offering is a plate of hudut -- fish cooked in a coconut broth and served with mashed plantains. No fork needed.
Laruni Hati Beyabu Diner, Northside, Hopkins Village; +501 661 5753, 10 a.m.-9 p.m.; entrees $4-8
Innie's, Hopkins Village Road; +501 503 7333, 7 a.m.-9 p.m.; entrees $4-10
3. Take drumming lessons
A symbol of the Garífuna culture, drums represent a connection to African ancestors.
In Hopkins, the award-winning Lebeha Drumming Center offers individual and group lessons.
Students learn the differences between primero and segundo drums and punta and paranda beats.
The Warasa Garifuna Drum School in Punta Gorda is another great choice.
Lebeha Drumming Center, Northside, Hopkins Village; +501 665 9305; $15 per hour
Warasa Garífuna Drum School, New Road, Punta Gorda; +501 632 7701; Monday-Friday 4:30-8 p.m., Sunday 9 a.m.-8 p.m.; $12.50 per hour
4. Tour a cassava bread farm
Three miles outside Dangriga, the family-run Sabal Farm produces cassava bread, a Garífuna staple.
The thin, cracker-like snack is distributed and sold across various parts of Belize.
"We are the only cassava-making farm in the country," says Cyril Sabal. "We've been here for 25 years, and we bake twice a week."
The process begins with a group of eight women, who sit in a circle talking while peeling 12 bags of cassava over four hours.
Simultaneously, peeled roots are passed on to be washed, grated, sifted and prepared into a thin flour.
Then the women skillfully toss and bake the bread by fire hearth.
To schedule a visit, contact Belize licensed tour guide David Obi (+501 602 3077; $20 per person).
5. Make a drum
In Dangriga, on a corner of Y-Not Island, where the North Stann Creek River merges with the sea, Austin Rodriguez, 82, carves the country's finest Garifuna drums.
Against a backdrop of pelicans and fishermen at sea, Rodriguez and his daughter have kept the drum-making tradition alive for close to 30 years.
Stop by the beachfront space for an impromptu or scheduled lesson, in exchange for a donation of your choice.
"I opened this shop so the young people will come learn how to make Garífuna drums," says Rodriguez. "But anyone can come. I am here all day, until the night."
The entire drum making process takes at least a week and you'll need all the muscles you've got.