Elmore Leonard, writer of sharp, colorful crime stories, dead at 87
Todd Leopold and Joe Sterling | 8/21/2013, 6 a.m.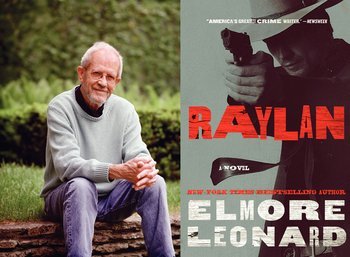 CNN — Elmore Leonard -- the award-winning mystery writer whose snappy dialogue, misfit characters and laconic sense of humor produced such popular works as "Get Shorty," "Hombre," "Fifty-Two Pickup" and "Out of Sight" -- has died, according to his literary agent, Jeffrey Posternak. He was 87.
The cause of death was not given, but Leonard had suffered a stroke two weeks ago. According to his website, the author died at his home in Bloomfield Village, Michigan.
Leonard's succinct writing style -- he favored brief exchanges of dialogue leavened with wit and a keen sense of person and place -- made him a favorite of Hollywood, which turned several Leonard novels and stories into films and TV programs. (The newest Leonard adaptation, the film "Life of Crime," based on his novel "The Switch," will premiere at the Toronto Film Festival next month.)
He was also incredibly prolific. At the time of his death, he was at work on his 46th novel.
His style went down easy but could be hard to imitate. The writers on the TV show "Justified," based on a Leonard character, wore wristbands with the initials "WWED" stamped on them, for "What Would Elmore Do?"
Informed of this, he described it as "flattering."
"I have a picture of all them and they're at their desk and they all have a different book of mine and each one is reading to get my sound," he told CNN last year. "That's very flattering, I'll tell you."
Leonard was born in New Orleans but raised in Michigan, where his father worked for General Motors. After college, Leonard went to work for a local advertising agency, where he spent his days writing copy about cars and trucks. His nights, however, were devoted to his own work: mainly westerns in the 1950s. Two of his stories, "Three-Ten to Yuma" and "The Captives," were turned into movies.
But Leonard kept his advertising job until 1961, rising at 5 a.m. to write before heading off to work. Despite his output -- and more movies, including "Hombre" with Paul Newman -- he said he didn't find his style until reading George V. Higgins' classic 1970 crime novel, "The Friends of Eddie Coyle." Higgins' book, which was turned into a 1973 movie, was almost all dialogue, much of it profane.
"I read it and I changed my style somewhat," he told CNN. "Just somewhat. I started to use expletives where they belonged. I started to open my scenes with dialogue. Higgins set me free."
He also spent time with Detroit homicide detectives, where he continued to hone his ear.
All this came just in time. He'd written one crime novel, "The Big Bounce," in 1966. Despite Leonard's bona fides, it was rejected 84 times and didn't see the light of day until being made into a 1969 movie.
The new style gave his books new life -- and new fans. When the movies wanted crime stories with offbeat characters and settings, they knew to turn to Leonard. "Get Shorty" was made into a 1995 film starring John Travolta and Gene Hackman; "Rum Punch," a 1992 novel, was turned into Quentin Tarantino's 1997 film "Jackie Brown." "Out of Sight," which was made into a 1999 Steven Soderbergh film, helped rejuvenate George Clooney's movie career.