Elmore Leonard, writer of sharp, colorful crime stories, dead at 87
Todd Leopold and Joe Sterling | 8/21/2013, 6 a.m.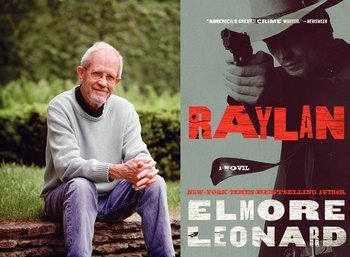 continued — In Leonard's stories, characters move from scene to scene, cracking wise while they do stupid, violent things. He thinks most crooks are dumb, and that dumb is funny. He likes a good caper and the violence seems to be almost incidental, more like an occupational hazard.
The plots feature clever twists; the narrative style is so spare it reads like haiku. The simple beauty of it all can put a bullet through your heart.
He created some of popular fiction's most memorable tough guys: trigger-happy federal marshal Raylan Givens, streetwise Hollywood wannabe Chili Palmer and smooth talking bank robber Jack Foley.
In recent years, literary types took notice. Last year, the National Book Foundation awarded Leonard the 2012 Medal for Distinguished Contribution to American Letters in recognition of his fiction.
"For over five decades, Leonard's westerns, crime novels, serialized novels, and stories have enthralled generations of readers," the foundation said in a statement.
Leonard also received an Edgar Grand Master honor from the Mystery Writers of America and a Peabody Award, among other distinctions.
But to Leonard, writing was just what he did.
"I don't have a trade," he told CNN. "I don't teach or anything. I just love to make up characters and gradually build up a story around them." For example, he said, the "Out of Sight" character Karen Sisco, later the lead of a TV series, was inspired by a newspaper photograph of a shotgun-toting Miami marshal.
He also worked hard. Writing is rewriting, the old saying goes, and Leonard -- who wrote first drafts by hand -- would do three pages to get "one clean, typed page with every word in place."
The key, he said, was to know when to stop. Wise advice from the man who wrote a book called "10 Rules of Writing."
"I don't want it to sound like writing," he said. "Leave out the parts people tend to skip."
CNN's Ann O'Neill and Christian DuChateau contributed to this report
The-CNN-Wire
™ & © 2013 Cable