A "Joy" to work for longtime Baltimore Times employee takes a trip down memory lane
Ursula V. Battle | 8/30/2013, midnight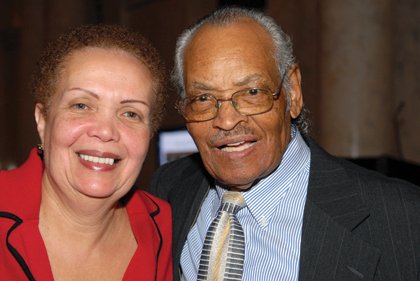 "During my last year at Hampton, I worked at the Norfolk Journal & Guide, and at various workshops in Hampton, VA. From there, I went to work for the AFRO, where I worked for 40 years. The AFRO's Sam Lacy and Carl Murphy had a great influence on my life, and also contributed to my interest in this business. John Murphy, III who also worked for The AFRO is also a good friend of mines."
Howard said one of the most rewarding parts of his job is that it affords him the opportunity to do just as his high school teacher did many years ago - spark flames of interest in youngsters. He often takes time to talk to youngsters about his job at the Baltimore Times.
"I'm so proud of the kids because most of them turned out fine," he said proudly. "One is working at a print office, and another is a head pressman at The Washington Times. Many of them come back and thank me. The influence I have had on young people makes me very feel really good."
Howard is also proud of The Baltimore Times Newspaper Group's 20th anniversary.
"The 20th anniversary of the paper symbolizes that people are still interested in reading newspapers, and that newspapers will continue to exist," said Howard. "To see the papers continue to grow and thrive is great. People have accepted the papers, and love reading the community news."
Commenting on Bramble's success, Howard added, "You go girl!"
Note: This story was reprinted in memory of Frederick Howard