Nelson Mandela death: South Africans, world mourn former president
Arwa Damon and Faith Karimi | 12/6/2013, 5:09 a.m.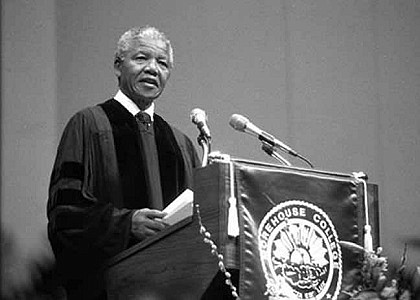 SOWETO, South Africa (CNN — In a symbol befitting a nation in mourning, a dark gray cloud swept over Johannesburg on Friday as news spread that international icon Nelson Mandela is dead.
Under overcast skies that threatened rain any minute, South Africans draped in flags and images of Mandela gathered on the streets to sing and dance.
Others wept as they lit candles near his home in the Johannesburg suburb of Houghton.
Children spelled out "we love you Mandela" on the grass using rocks. Nearby, stuffed animals and flowers sat in a heap.
In Soweto township, where Mandela lived before he was thrown into prison for 27 years, giant posters of his face adorned walls. Residents surrounded his former red brick house on the busy street and crooned freedom songs.
Mandela, 95, died Thursday. The nation's first black president battled health issues in recent years, including a recurring lung infection that led to numerous hospitalizations.
Memorials popped up from Los Angeles to Chicago, where flowers and candles were laid in front of murals bearing his likeness. In Washington, crowds gathered in front of the South African embassy.
And in his native South Africa, citizens woke up to the news Friday after President Jacob Zuma announced his death late Thursday.
"It was a surprise. I was asleep so I didn't know when Zuma announced his death," said Wilson Mudau, a cab driver in Johannesburg. "I woke up and was shocked when I saw it on television. It's sad, but what can we do. Let him rest in peace. It's time ... Madiba has worked so hard to unite us."
South Africans affectionately refer to him as Madiba, his clan name.
Man of complexities
Mandela helped South Africa break the shackles of racial segregation and do away with white minority rule.
Imprisoned for nearly three decades for his fight against apartheid, he emerged from prison in 1990 determined to unite the nation.
Instead of anger and bitterness at the white government that imprisoned him, he chose forgiveness and reconciliation.
"As I walked out the door toward the gate that would lead to my freedom, I knew if I didn't leave my bitterness and hatred behind, I'd still be in prison," Mandela said after he was freed.
His call to avoid vengeance inspired the world. It also set him on a path of evolving roles, from freedom fighter, to prisoner, to South Africa's symbol of the struggle against racial oppression.
But one role remained dominant: father of modern South Africa. And four years after he left prison, he became the nation's first black president, cementing his place in the consciousness of the nation and the world.
"I'm just glad he finally found his place of rest," said iReporter Omekongo Dibinga of Washington. "From the family drama to his health problems, it just seemed like he could never get a break in his later years. Now I hope be can finally rest but he'll probably still be watching down on us in frustration. "