Nelson Mandela death: South Africans, world mourn former president
Arwa Damon and Faith Karimi | 12/6/2013, 5:09 a.m.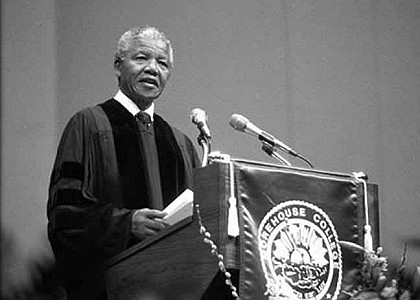 continued — With his recent bouts of illnesses, some seemed prepared for the worst.
"We all knew he'd leave us at some point," said Tony Karuiru, a Johannesburg resident. "But we were hoping that he would be with us during the festive season. It's the holidays, we're all expecting bonus. I just wish God would have given him a bonus of a few more days as well. "
Thomas Rabodiba, 38, said even though Mandela's death was expected after so many years of illness, he's having a hard time accepting it.
"At first, I heard rumors and thought it was the usual rumors I'd heard before," he said. " After I heard the president's announcement later that the old man has departed, then I believed that he's really gone."
His legacy
Mandela will be remembered for many things, but his message of forgiveness and reconciliation will resonate the most.
"Mandela's biggest legacy ... was his remarkable lack of bitterness and the way he did not only talk about reconciliation, but he made reconciliation happen in South Africa," said F.W. de Klerk, South Africa's last white president and Mandela's predecessor.
His casket will lie in state for several days in Pretoria. Next week, it will be flown to his ancestral hometown of Qunu for a state funeral and burial, sources said.
Until that funeral, Zuma has ordered flags around South Africa to be flown at half-staff.
"He is now resting. He is now at peace," Zuma said late Thursday. "Our nation has lost its greatest son. Our people have lost a father."
The United States followed suit while Buckingham Palace said it will fly the Union flag at half staff when Queen Elizabeth II leaves Friday morning.
"We must pay tribute to Mandela, the best state leader of all time," said Zaid Paruk, 23.
And the tributes have poured in from leaders near and far.
"Nelson Mandela achieved more than could be expected of any man," Obama said. "Today, he has gone home. And we have lost one of the most influential, courageous, and profoundly good human beings that any of us will share time with on this Earth. He no longer belongs to us - he belongs to the ages."
In the final years of his life, secret plans were hammered out between the government, the military and his family as they prepared for a fitting farewell.
Events will be held over the next 10 days, culminating in a state funeral to be broadcast worldwide and a private farewell for those closest to him.
CNN's Greg Botelho, Catherine E. Shoichet, Robyn Curnow, Susannah Palk and Max Foster contributed to this report.
The-CNN-Wire
™ & © 2013 Cable News Network, Inc., a Time Warner Company. All rights reserved.