Obama, world leaders praise 'giant of history' at Mandela memorial
Marie-Louise Gumuchian | 12/10/2013, 2:48 p.m.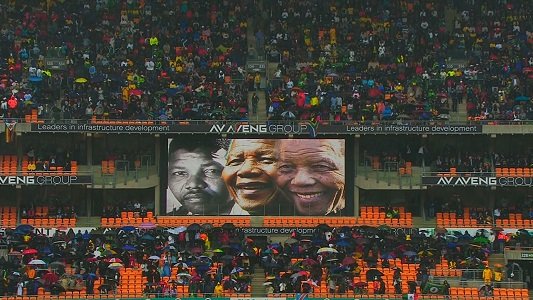 continued — Obama, who like Mandela was his nation's first black president, has cited Mandela as his own inspiration for entering politics.
He said his death should prompt self-reflection.
"With honesty, regardless of our station or our circumstance, we must ask: How well have I applied his lessons in my own life?" Obama said.
"It is a question I ask myself, as a man and as a president. We know that like South Africa, the United States had to overcome centuries of racial subjugation. As was true here, it took sacrifice -- the sacrifices of countless people, known and unknown -- to see the dawn of a new day."
The presidents of Namibia, India, Cuba and South Africa were also designated speakers, as were Roussef and Chinese Vice President Li Yuanchao.
"South Africa has lost a hero, they have lost a father. The world has lost a beloved friend and mentor," United Nations Secretary-General Ban Ki-moon said to loud cheers.
"Nelson Mandela was more than one of the greatest leaders of our time, he was one of the greatest teachers. And he taught by example."
The stadium, which can seat around 90,000 people, was not full, and speeches were hard to hear at times. But the celebratory mood was evident as thousands clapped and waved South African flags throughout the service.
Presidents and celebrities
Foreign guests included British Prime Minister David Cameron, the Prince of Wales, French President Francois Hollande and Liberian President Ellen Johnson Sirleaf.
"It means a lot because it really is to say goodbye to an extraordinary man and to commemorate someone who did so much not just for South Africa, but also for the world in terms of the inspiration that he gave," Cameron told CNN's Christiane Amanpour.
Nobel Peace Prize laureate Archbishop Desmond Tutu and members of The Elders, a group of retired statesmen founded by Mandela and others, were also in attendance, including former U.N. Secretary-General Kofi Annan and former U.S. President Jimmy Carter.
The crowds cheered loudly and clapped as a huge screen showed famous faces, such as F.W. de Klerk, the last leader of white South Africa, who shared a Nobel Peace Prize with Mandela for helping to end apartheid.
Mandela's widow, Graca Machel, and his former wife Winnie Mandela embraced and kissed as they arrived.
The world of entertainment also was well represented, with South African actress Charlize Theron and U2's Bono in attendance. Celebrity guests also included model Naomi Campbell.
Tight security
With 91 heads of state attending, security was tight.
Working off plans developed for years in secret, the South African government planned to use an elite military task force, sniper teams and canine teams to help secure the stadium, CNN's Arwa Damon reported Monday. In addition, helicopters and military jets frequently flew overhead.
U.S. officials said they were satisfied with security arrangements.
The event rivaled other significant state funerals in recent decades, such as that of former British Prime Minister Winston Churchill in 1965 and the 2005 funeral of Pope John Paul II, which attracted some 2 million people to Rome -- among them four kings, five queens, at least 70 presidents and prime ministers and the leaders of 14 other faiths.