Obama, world leaders praise 'giant of history' at Mandela memorial
Marie-Louise Gumuchian | 12/10/2013, 2:48 p.m.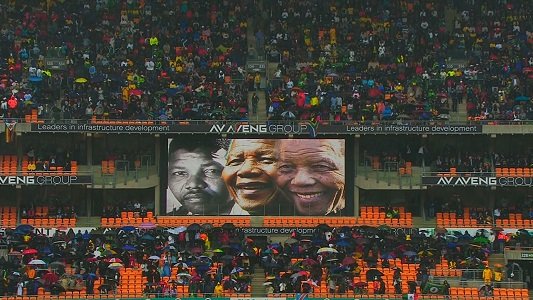 continued — Security was also stepped up outside Mandela's home, where crowds danced under umbrellas. Some even enjoyed the rain, jumping into puddles.
"We want to respect our father of the nation, our father of the country. That is why we left work to pay that respect to him," one South African told CNN.
State funeral on Sunday
Crews had worked overtime Monday to prepare the stadium for the service.
The government set up overflow locations at stadiums and other facilities throughout the country.
With private vehicles banned from the area around the stadium, the government pressed buses from around the country into service and stepped up train service to move the crowds.
In Soweto township, where Mandela lived before he was imprisoned for 27 years, people waited for three hours for buses to take them to the stadium. Unfazed by the wait, they sang and danced.
While Tuesday's memorial is the first major event honoring Mandela since his death, it won't be the last.
A state funeral will be held Sunday in Mandela's ancestral hometown of Qunu in South Africa's Eastern Cape province.
Other speakers at Tuesday's service included Mandela's friend and fellow anti-apartheid activist Archbishop Tutu
"We promise God that we are going to follow the example of Nelson Mandela," he said to loud cheers.
Mandela family members, including his grandchildren, also spoke.
Paying tribute to his uncle, Gen. Thanduxolo Mandela said his family has gone through waves of grief, sorrow and anguish after his death.
But "today, more than any other feeling my family holds is thankfulness for that wonderful life," he said, also giving thanks for the outpouring of respect from around the world
"This universal show of unity is a true reflection of all that Madiba stood for -- peace, justice, unity of all mankind. Let us pledge to keep Madiba's dream alive."
CNN's Michael Pearson, Athena Jones, Holly Yan, Chris Cuomo, Kim Norgaard, Robin Curnow, Arwa Damon Errol Barnett and David McKenzie contributed to this report.