Mandela memorial interpreter asks forgiveness, calls himself champion
He says he's receiving treatment for schizophrenia
David McKenzie and Marie-Louise Gumuchian | 12/12/2013, 11:11 a.m.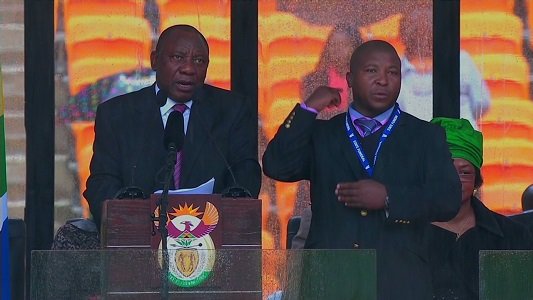 continued — "It is important to make the point that, up until yesterday, the African National Congress had not been aware of any of complaints regarding the quality of services, qualifications or reported illnesses of Mr Jantjie."
'A dream come true'
Jantjie said he was proud to receive a call saying he would be interpreting at the memorial for the revered statesman, who died last week at age 95.
Asked who had called him to tell him he would be interpreting, he just said: "It is a lady that I am serving under."
He said the atmosphere on the day was "wonderful."
"It was a dream come true," he said, adding that he felt as if he had reached "the standard of the champion of the whole world."
At the service, at which world leaders from President Barack Obama to Cuba's Raul Castro spoke, he said he was doing South African sign language.
'Fake interpreter'
But the national director of the Deaf Federation of South Africa sees it differently. He said Jantjie had been dubbed a "fake interpreter."
"The deaf community is in outrage," said Bruno Druchen. "He is not known by the Deaf Community in South Africa nor by the South African Sign Language interpreters working in the field."
The man showed no facial expressions, which are key in South African sign language, and his hand signals were meaningless, Druchen said. "It is a total mockery of the language," he added.
While dignitaries addressed the crowd at Johannesburg's FNB stadium, Jantjie produced a series of hand signals that experts said meant nothing.
"It was almost like he was doing baseball signs," deaf actress Marlee Matlin told CNN on Wednesday, through a sign language interpreter. "I was appalled."
Though each country has its own sign language, all of them entail facial expressions, she said. She called his lack of facial expression "a giveaway."
"I knew exactly right then and there that he wasn't authentic at all, and it was offensive; it was offensive to me."
CNN's Ed Payne and Kim Norgaard contributed to this report.
The-CNN-Wire