Stefanie Brown James
JD Collins | 12/17/2013, 11:56 a.m.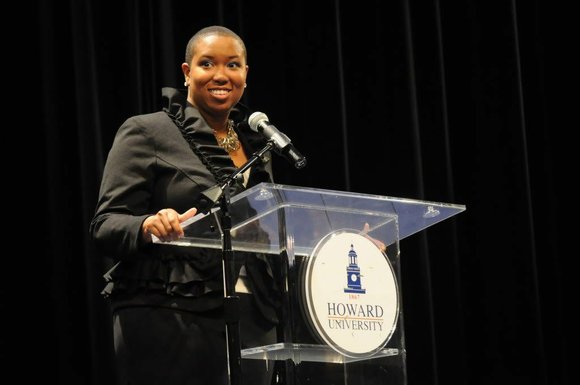 CEO and Founder of Vestige Strategies, Founder of Brown Girls Lead, In charge of the African-American vote for President Obama's 2012 re-election campaign.
What is the personal significance of Black history Month to you?
"It's important to say that black history is American history and it's global history. I was just in Morocco a few weeks ago and to see the influence of American culture which really is intertwined and often times shaped by black culture was amazing. From music, to dress, to slang to a lot of different elements, and so much of that has been influenced by those who helped to shape the culture and made sure that black people had a voice and were able to be unique in how we are. I'm particularly tied to the more social justice activists of the past. I think one of our proudest moments as it relates to activism was the young people during the civil rights movement that sacrificed a lot and they were only kids and I think it's really important that we continue to let our children know about black history, where we come from, and continue to try to shape history even now."
What was the poignant moment in Black History for you?
"The founding of the NAACP in 1909, and it was a multicultural group of people who were committed to seeing the advancement of black people in this country. At that time, the biggest thing they worked on was anti-lynching laws. Just the bravery that it took for these men and women across the country to form this organization and form chapters across the country was significant. These [people] were in the face of real danger and a lot of people lost their lives, many of who we would never know their names or their sacrifices. That bravery element just speaks so much. Almost anything we go through nowadays is nothing compared to what they went through. If they could do it, we could do it too. That's always something very empowering for me to remember as I try to do the work that I do."
Growing up, who were the African-American icons you looked up to and why?
"Not a shock that many of them are women. Juanita Jackson Mitchell was the founder of the youth and college division of NAACP and she was also instrumental in cases like the Scottsboro Boys case and was just a real pioneer as it relates to a woman who was involved in civil rights. Women like Ella Baker who helped to find the student non-violent coordinating committee who also was a field director for NAACP. She really helped to mold generations after her to be involved in civil rights." Present-day, I continue to be enamored with Oprah. My husband's probably so tired of me talking about Oprah. I love Oprah. I'm hoping to meet her one day. I like her business-savvy and now as an entrepreneur, she is a person who I look up to for being able to really do things her way.