You won the big one, now what?
Steve Almasy | 12/17/2013, 11:20 a.m.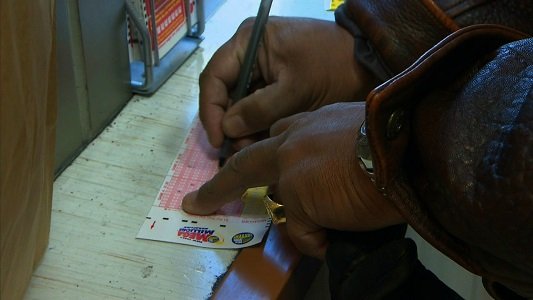 CNN — Somebody might wake up Wednesday a whole lot richer. Heck, some of us are going to stay up to see if we're the lucky one or two who hits Tuesday night's $586 million Mega Millions jackpot.
People who play the lottery love to dream about the things they'd do if they won the big one. Telling the boss off might top your list (not mine, oh no, not mine). Maybe a new mansion and a fancy car and a gasoline-powered turtleneck sweater (right, Steve Martin?).
But let's think about it. There are a few important things you should do before you go out and blow your winnings.
1. Sign the ticket.
You didn't already? Are you crazy? What if the roommate "claims" it? What if your significant other isn't as significant as you thought? What if you are showing it to someone, say over a beer or 10, and it goes missing? What if you forget it on your desk and you suddenly have the richest cleaning person in the U.S.? Sign it -- if you didn't when you bought it -- because whoever has an unsigned ticket when it gets turned in can call dibs on it.
It's also time for a selfie. With you and said ticket. It might even be a good idea to run to the drug store and buy a camera with actual film in it.
And then find a hiding place for that ticket. A safe deposit box is probably, yes, safest. Or go get a portable home safe. Remember, this ain't Canada; no one is going to track you down to hand you your millions.
2. Contact people who have dealt with large sums of money before
And we don't mean your Uncle Eddie who says he's doing great with his online stock portfolio or a cousin who just passed the bar. Start with one experienced attorney and look for a seasoned certified financial planner. You don't want to contact more than a few people, lest the word get out before you even get the big cardboard check.
Your biggest decision right now is whether to take the cash prize (the actual money in the pot) or take an annuity (the estimated value of the cash option plus whatever interest it will earn over 30 years).
It seems like a no-brainer to get it all up front and do your own investing, but a bright financial mind will help you see if it's best to get 30 checks over time or one check.
The lawyer you pick will also need to hook you up with specialists in subjects like estate planning, taxes and such. You might want to know if it's best to buy mom a house or just give her some cash each year or set up some sort of trust fund. I vote to buy the house and let her live there. Wait, is that OK? Need a lawyer.