You won the big one, now what?
Steve Almasy | 12/17/2013, 11:20 a.m.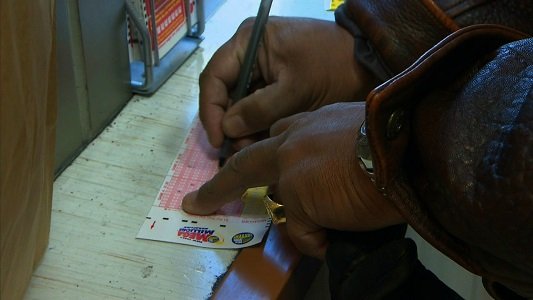 continued — 3. Figure out if you can stay anonymous
Chances are, you can't. Only a few states like South Carolina allow it, so you may want to hire a media consultant or a PR flak. Let someone else plan your appearances after you claim your coin. And remember, you don't have to make your decisions right away. You might have as long as 180 days to claim your prize, but check state rules while you're looking to see if you can remain anonymous.
But it would be best if you didn't have to give out your name, some former winners say.
If you can't, lie low for a while. If you can't lie low, it might be prudent to hire a bodyguard. We don't want you to end up like the winner in Florida who ended up buried under a driveway.
4. Plan a trip
Speaking of staying out of sight, it might be a good time to head to South America. We hear it's nice this time of year. Or some place like the U.S. Virgin Islands if you don't have a passport.
One set of winners went straight from the news conference to the airport. They were gone for weeks. If it were me, I might have the news conference at the airport, in front of the private jet.
If you do duck out for a few weeks, you probably won't come back to find the news media parked in front of your house and people won't recognize you in stores.
Now there probably will be a pile of mail and e-mails from relatives you never knew you had and messages on the answering machine (if you still have your phone connected).
5. Don't give up just because you didn't win the top prize
Every year a few of the people who match five numbers and win the measly runner-up prize fail to collect their winnings. So check those tickets again to see if you might have won $1 million. You don't want to be among the 2% of people (OK, it's like one or two) who threw away a million bucks. Last year there were $800 million in unclaimed lottery prizes. That's everything from $1 prizes to the $1 million prize (that can be even bigger if you play the multipliers).
It might be, for instance, the guy I talked to at a sandwich shop in the CNN food court who says he only plays when the jackpots are huge. He checks to see where the big winner lives and if it's not here, he tosses his tickets.
But if you do get a piece of the top prize, you'll be in rare territory. Tuesday's jackpot is the second-largest in U.S. history. (The biggest was a $656 million Mega Millions prize, shared by three winning tickets in March 2012.)
Tuesday's drawing is at 11 p.m. ET. Good luck!