When parents want to give something more
Some of the most meaningful gifts include handwritten notes and the gift of time with parents
Kelly Wallace | 12/19/2013, 6 a.m.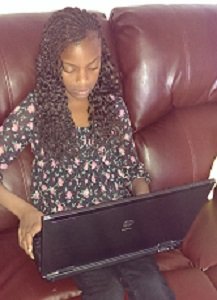 continued — "When the kids went home and told (their) parents, I had parents tell me they were duplicating the same gift cards at home," said Howard of Fredericksburg, Virginia, who continues to work with ailing schools as CEO of Edu-Linx Consulting.
"I think we underestimate how much our kids value focused 'you' time because the kids always act like they don't want us around. Don't you believe it!"
"My preteen and teenage grandsons love when Nana comes and we disappear together and just get goofy, eat junk food and ride bumper cars," she said.
The gift of learning
Carmen Jones-Weaks said her 10-year-old daughter has plenty of things from skateboards to video games to Barbies but says her favorite possession of all is her laptop.
That led Jones-Weaks to come up with the idea of the gift of classes to Black Girls Code, an organization designed to expose young and preteen girls of color to technology and computer programming.
"I believe that Black Girls Code is a gift that I can give her that is a boost to her self-esteem and that it helps to empower her with a gift that will last a lifetime, educational without being boring," said Jones-Weaks.
Jen Bosse, a mom of two and host of the site Defining My Happy, said she's noticed that "gifting experiences rather than items" is becoming more popular.
Some people are "opting out of stuff and opting in to creating a memory through exploration whether that be to an educational place like a museum or aquarium or simply to an amusement park," said Bosse, whose kids are 15-months-old and 2 1/2.
"There are so many ways to gift an experience that can teach, be thoughtful and show the positive of reconnecting with family that (is) often much more valuable in the long run than a new set of Legos or a Barbie Dream House."
Lori Garcia, a mom of two in Southern California, said one of the greatest gifts she and her husband have given their kids are lessons, such as in bowling, art, karate or cooking, provided by their community's parks and recreation department.
"Giving them the chance to try out a new skill or hobby, along with the opportunity to meet and socialize with kids outside their regular circles, has been a great way to not only educate and inspire them, but provide them with new experiences that last much longer than the short-lived joy of a new toy," said Garcia of the site Mommyfriend.
Devra Gordon, a mom of two in Northern Virginia, makes playlists for her children on the digital music service Spotify during Hanukkah, and they do the same for her.
"The message in the playlists is we are sharing music with one another that means something to us or we feel will mean something to the person for whom we are creating the list," said Gordon, a clinical social worker and co-author of the book "Mommy Guilt."
"Sharing our past and present in music is akin to creating life soundtracks."