10 most Christmassy destinations on the planet
Roseann Lake, for CNN and Laura Ma | 12/24/2013, 6 a.m.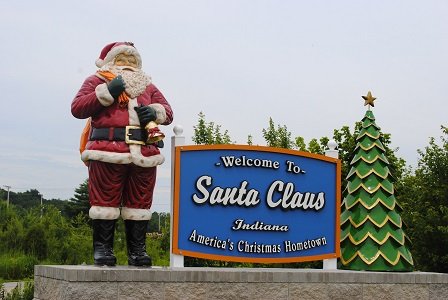 continued — The top three walk away with a gold, silver or bronze "Plum People" awards.
Adults can enjoy Nuremberg spicy gingerbread and mugs of mulled wine.
For kids, there's the Toy Museum, while the German Railway Museum is a hit with everyone.
Quebec City, Canada
If you're the type who likes to celebrate Christmas around a tree made from recycled sheet metal, with lights powered by the pedaling of nearby cyclists, Quebec is your destination.
A haven for environmentally friendly, outdoor enthusiasts, the city bustles with activity, offering holiday programs for all tastes.
Modern-day Victorians can enjoy a candlelit evening of stories from Charles Dickens, recounting the Christmas traditions of yore.
Sausage and roast chestnut lovers can browse the wares at the German Christmas market.
The more religiously inclined can wander an exposition of nativity scenes from around the world.
The nearby Sentier des Caps de Charlevoix offers family-friendly hiking, snowshoeing and skiing, while speed devils can zoom around in a snowmobile from Nord Expe.
Reykjavik, Iceland
When it comes to Christmas celebrations, Iceland has a few peculiarities.
Among these, 13 "Yuletide Lads" (scruffy Santas) are said to bring gifts to nice children for the 13 nights leading to Christmas.
Rows of small, beautiful huts make up the Yule Town Christmas market on Ingólfstorg. Here, visitors can pick up colorful Christmas gifts, decorations and treats.
The shopping differs day to day as some craftsmen and designers set up stalls for only one day.
Beaming down onto a city covered in snow and Christmas lights, northern lights displays add to Reykjavik's festival feel.
San Miguel de Allende, Mexico
Piñatas, posadas and ponche sum up the festivities in this colorful Mexican city, where Christmas is both a solemn and celebratory affair.
Leading up to December 24, you're likely to stumble upon Mary and Joseph strolling the streets, as locals make pilgrimages from home to home, singing to "ask for posada" or "beg for shelter" as they re-enact the journey to Bethlehem.
Piñatas and ponche (a mulled fruit drink) cap a long evening of peregrinations around this cobblestoned city, designated a UNESCO World Heritage Site for its wealth of grand churches, well-preserved architecture and grand zocalos, or sweeping public squares, replete with romance and Old World charm.
Santa Claus, Indiana
Christmas is a year-round occasion in this town of fewer than 3,000 residents.
Santa Claus, Indiana, receives thousands of letters a year from children trying to reach St. Nick himself.
A group of volunteers called Santa's Elves was set up in the mid-1930s to reply to each letter.
The Land of Lights display is a 1.2-mile drive around the Lake Rudolph Campground & RV Resort.
Among various Christmas-themed events, the Christmas Lake Golf Course offers wine tasting on December 14. Santa hosts a buffet dinner at the course lodge on Fridays leading up to Christmas.
Strasbourg, France
Strasbourg's series of themed Christmas villages morph the city into a visual and gastronomic wonderland.
Visitors can head to the Village of Alsace Farmhouse to taste prune, apricot and other holiday-inspired variations of farm-fresh foie gras.
The nearby Village of Bredle is supplied with its namesake traditional Christmas biscuits and copious amounts of mulled Alsatian wine.
From the Strasbourg Philharmonic to gospel to Django Reinhardt-inspired gypsy jazz, Strasbourg's Christmas program is packed with concerts and cultural events from Croatia, the guest country of Strasbourg's Christmas celebrations this year.
Valkenburg, The Netherlands
This small town is the Dutch center for Christmas festivities.
Valkenburg's Velvet Cave is transformed into a Christmas Market and the residence of Santa, where visitors can see his room of presents and reindeer sleigh.
The cavern houses sculptures and an 18th-century chapel, as well as preserved mural drawings that date to Roman times.
Marlstone products and traditional Polish handicrafts are a few of the unique items exclusive to Valkenburg's Christmas markets.
Best way to reach the Christmas town? A Christmas Express train that runs regularly between Simpelveld and Valkenburg.