Up all night with Kevin Hart
Kevin Hart is releasing a new concert movie called "Let Me Explain"
Emily Zemler | 7/3/2013, 10:24 a.m.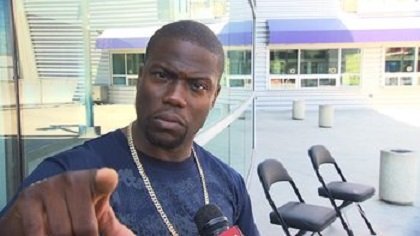 CNN — Last year Kevin Hart sold out two consecutive nights at New York's famed Madison Square Garden, a venue that most standup comedians aspire to at some point in their career.
For Hart, who took the arena's stage as part of his global Let Me Explain comedy tour, which also filled Los Angeles' Staples Center and London's O2 Arena, the occasion was so momentous that it deserved its own film. The comedian, along with directors Leslie Small and Tim Story, used the performance as the centerpiece of his new movie, "Kevin Hart: Let Me Explain," which opens in theaters Wednesday.
Although largely a standup movie, "Let Me Explain" is framed with a fictional intro where Hart is inundated with a barrage of questions about his life and career -- all of which he determines to answer onstage at Madison Square Garden. This opening offers the comedian an opportunity to showcase the worldwide aspect of the Let Me Explain tour before eventually revealing his entire standup set.
The comedian, who has numerous feature films in the works and recently made a brief appearance in the apocalyptic comedy "This Is The End," spoke with CNN.com in a suite at the Beverly Hills Four Seasons the day of the movie's premiere. Hart, clad in sunglasses to veil his exhaustion, recounted the process of creating "Let Me Explain," why he got so emotional onstage at Madison Square Garden and how he might be the busiest person alive.
CNN: When you were filming your Let Me Explain comedy tour last year, was the intention always to make it into a feature film?
Kevin Hart: Yes. I wasn't sure of the direction I wanted to take the movie in, but I just knew I wanted to document everything I was doing that year because it was so much, especially the world tour aspect of it. It was just putting camera crews in place to capture absolutely everything that we did and at the end of it just put the pieces of the puzzle I had in my head together. It all came together well. But as we were going along I tracked it and I knew the pieces I had, and it was just tying them together.
CNN: How did you come up with the idea for how the movie is framed?
Hart: I need a segue into the documentary aspect of [the movie] and the best way to do that, I felt, was to jokingly address what's been happening to me for the past two years. Everybody coming up to me asking questions, and when I go to answer it they tell me what their answer is. You don't allow me to tell them what's going on -- you tell me what you think you know because you've heard things about me. It was a different way to open a standup film and I'm all about being different and trying to break ground with original ideas.