Up all night with Kevin Hart
Kevin Hart is releasing a new concert movie called "Let Me Explain"
Emily Zemler | 7/3/2013, 10:24 a.m.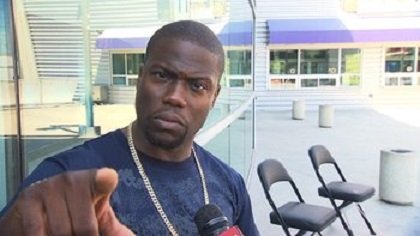 continued — CNN: Do you legitimately feel like you have to explain yourself?
Hart: Yes and no. At the end of the day your fans are the people who support you in and out. And their opinions matter. As a celebrity you can try to say you don't care and say, "This is my life, I don't live for other people" all you want. But we don't. We have no obligation to do things for our fans, but my feeling is that we don't get to where we are or get what we get without the support of our fans. So if there's questions going around that your fans have because of things that they've heard, I think you do owe it to them to address it.
CNN: At the end of the movie you get really emotional about being in Madison Square Garden. What does it mean to you to perform in a venue like that?
Hart: You're looking at me achieving a goal that I didn't think was achievable. I'm sure everyone knows now that only a few have performed in Madison Square Garden. That list is so small. Now I'm on that list. I'm a part of a very small group, which is unbelievable. You relish in that moment for a second. When I did that onstage it choked me up because I genuinely thought about what I've accomplished and where I was and what I did to get here. And now that I'm here, the sky's the limit. I'm in love with this, with making people laugh. And the fact that I had this venue to do it in was crazy.
CNN: Now that you've conquered Madison Square Garden, do you have a new goal you're aiming to achieve? Is there even a bigger venue you could play?
Hart: I have no idea where you go next. None. No idea! I'm scared.
CNN: Do you approach standup in the same way you would approach a movie or TV role?
Hart: I don't approach it like it's a movie role. I genuinely love doing standup and I'm a comedian first, so for me what makes my standup special is the fact that I don't have to adapt or adjust. I am who I am. I appeal to everyone, hence in the movie doing a world tour. I'm not changing, I'm not adjusting my voice, I'm not changing my speed and the way that I talk. This is me. I'm actually funny. So I think the prep for that is me just enjoying what I do.
CNN: When you talk about your family and your kids in your standup, is that coming from a personal place?
Hart: Personal place. The motivation is wanting to put myself out there so people can see that I'm genuine and I'm real. What you see is what you get. It's not fake. I'm not trying to be someone else. I'm being myself.