As American as apple pie - the origins of picnic favorites
Kat Kinsman | 7/5/2013, 6 a.m.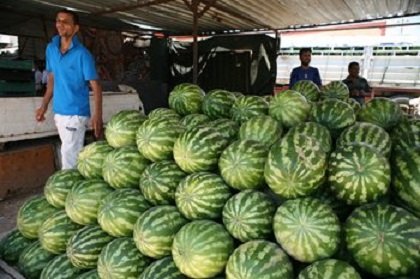 CNN — There's nothing quite so American as gathering your friends and family to celebrate Independence Day with a classic cookout.
We polled Eatocracy readers a while back, and nearly 38,000 votes later, it seems that the ultimate summer menu would consist of a burger (cooked medium and topped with cheese, lettuce and onions), potato salad, corn on the cob and watermelon, washed down with plenty of ice cold beer.
Only in the U.S.A., right?
Well, not quite. While those dishes may now be synonymous with American life, liberty and the pursuit of a really great picnic, like most of the citizens themselves, often their origins are elsewhere.
Let's start with that burger. Time Magazine's Josh Ozersky asserts in his 2008 book, "The Hamburger: A History" that the modern day incarnation of the formed patty between two halves of a bun is "an American invention" with endless regional variations like the Connecticut steamed cheeseburger, Mississippi slugburger or Oklahoma onion burger. Various inventors have laid claim to that innovation, from Charles "Hamburger Charlie" Nagreen, a vendor at the Seymour Fair in Wisconsin in 1885 and Fletcher Davis in Athens, Texas in the 1880s, to Frank and Robert Menches at the Erie Agricultural Fair in Hamburg, New York in 1885 (they also take credit for the invention of the ice cream cone at the St. Louis World's Fair in 1904), or possibly Louis Lassen at Louis' Lunch in New Haven, Connecticut in 1900.
While it took some American ingenuity to slap meat on some bread and render it a hand held sandwich, the concept of the patty itself was brought to the United States by German immigrants who had become fans of the Hamburg Steak. This cheap, chopped or roughly ground beef was mixed with fillers like breadcrumbs, suet and onions, bound with eggs and seasoned with nutmeg. The meat, often salted and smoked for preservation, was brought over to the United States by immigrants on the Hamburg America Line and became a popular menu item on New York City restaurants that catered to German sailors and European immigrants, hungry for the flavors of home.
That beloved potato salad, too, was the provenance of primarily German immigrants who brought over the endless regional variations that became popular in the U.S. in the latter half of the 19th century. While Spanish explorers introduced spuds to Europe in the 16th century and a few French and British potato salad recipes can be found in the texts of that time (see Cassell's Dictionary of Cookery and Mrs. Lincoln's Boston Cookbook), the German versions - characterized by warm dressings featuring a heavy vinegar bite - prevailed. It took good old fashioned American engineering to add mayonnaise to create the creamy, often egg-laden versions seen in delis and gracing picnic tables across this great land today.
Corn on the cob - now, that's one for the home team. Sweet corn - the variant of maize or field corn with a particularly high sugar content, which we use for cob consumption - was cultivated by Native Americans in the 1700s and shared with European settlers around the 1770s. It's also extremely popular served as a Mexican street food called "elote." In this preparation, cobs are grilled or roasted and slathered in condiments like lime, mayonnaise, cheese and powdered chiles.