As American as apple pie - the origins of picnic favorites
Kat Kinsman | 7/5/2013, 6 a.m.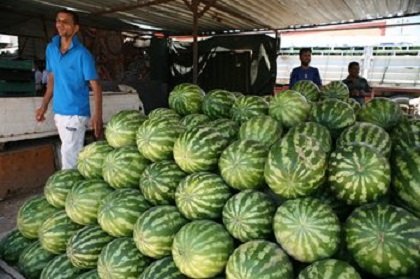 continued — Watermelon, ubiquitous at picnics from coast to coast, is believed to have originated in the Kalahari Desert of Africa. The melons were depicted in Egyptian heiroglyphics as far back as 5,000 years ago and were placed in the tombs of pharoahs to nourish them into the afterlife. Merchant ships brought the fruit to China by the 10th century, and that country remains the largest watermelon producer in the world. In his book "Southern food: at home, on the road, in history," food historian John Egerton writes of watermelon's introduction to the United States via African slaves, who also brought along okra, black-eyes peas, collard greens, yams and benne seed - also known as sesame.
And finally, to round out the feast: beer. Oh hoppy, malty, happy-making beer. Civilization has been brewing and quaffing permutations of beer since at least 6000 B.C., and studies show that Apache, Pueblo, Navajo and Tarahumara tribes in Northern Mexico and Arizona were no slouches, themselves - brewing a weak, corn-based beer called tiswin at least 1000 years ago.
Archaeologists also found evidence of fermented residue associated with beer production in 800 year old pots belonging to Pueblo tribes in what is now New Mexico. This contradicts previous assertions that the area had remained dry until the Spanish arrived in the 16th century with grapes and wine.
And as for that apple pie? English, Dutch and Swedish recipes go back centuries, but it's believed that mock apple pie - made without apples - was invented by pioneers traveling out West in the mid-1800s. The ingenious travelers used similar spices to evoke the taste of the bounty they missed from back East.
Now that's the flavor of good ol' American ingenuity.
The-CNN-Wire/Atlanta/+1-404-827-WIRE(9473)
™ & © 2013 Cable News Network, Inc., a Time Warner Company. All rights reserved.