Go barefoot or go home: 15 best islands you've never heard of
Pam Grout | 7/8/2013, 7:27 a.m.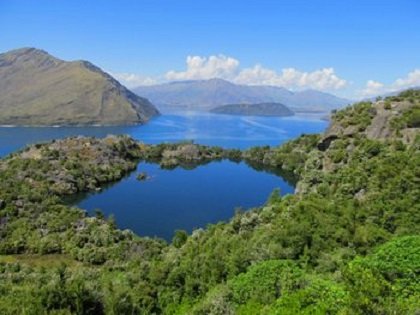 CNN — Bali? Been there.
Virgin Islands? Done that. Twice.
While many well known islands inhabit prominent spots on the average bucket list, there's another group of outposts that only the truly island-savvy know about.
These under-the-radar islands have sea views and ocean breezes, but are blessedly lacking in crowds, fabricated attractions and recreation "ambassadors" leading the Macarena.
These are 15 little known islands that time, Club Med and maybe even your favorite guide forgot.
1. Aitutaki, Cook Islands
Don't feel sorry for the cast of "Survivor" having to battle the elements, construct shelter and scrounge for food.
Visit the motu (it means "little island") where "Survivor: Cook Islands" was filmed and you'll find an idyllic island.
One of 15 in Aitutaki, it sits in a stunning 8-by-10-mile coral lagoon shimmering with hundreds of shades of blue.
At low tide, you can walk so far out on a sandbar that your friends might mistake you for an errant sea bird.
Aitutaki has a nine-hole golf course (stray balls sometimes land in the lagoon or the airport runway) and a selection of upscale resorts, including Pacific Resort and Aitutaki Escape where you can get a memorable massage and where a chef will prepare an amazing three-course meal.
With its crystal clear lagoon, archetypical tropical scenery and New Zealand savoir faire (the Cook Islands is a self-governing state in free association with New Zealand), Aitutaki is a place anyone would volunteer to "survive."
Pacific Resort Aitutaki, Amuri, Aitutaki, Cook Islands, +682 31720; rates from $626 per couple
2. Utila, Honduras
This little paradise is only 11 kilometers long, but it has 60 dive sites, 18-meter whale sharks (don't worry, they're vegetarian) and some of the cheapest scuba prices in the Caribbean.
For as little as $140 per night, you can get your own deserted island, complete with a fully furnished two-bedroom house.
Most of the 2,500 locals live near Eastern Harbor, a tiny village with nothing but locally owned hotels, restaurants and dive shops.
Water Cay, one of many "caylitos" that make up Utila's collection of tiny islands, hosts Sun Jam, a two-day music and dancing fiesta the first weekend of August.
Utila, Bay Islands, Honduras; for Sandy Cay, Little Cay or another private-island rental, check the official Utila website or call +504 3298 6832; private islands from $140 per night
3. Marettimo, Italy
The whitewashed houses, colorful fishing villages and year-round mile climate feel almost African, but this beauty is in Italy, in the Egadi Islands, just an hour by boat from Sicily.
There are no cars on the island -- that means no carbon fumes, no gunning motors, no taxi drivers honking for you to step it up.
What Marettimo specializes in is peacefulness.
Marettimo Residence, Via Telegrafo, Isola di Marettimo, Italy; +39 (0)923 923 202; rooms starting at seven nights for $466
4. Tsarabanjina Island, Madagascar
Hard to pronounce, let alone get to, this island northwest of Madagascar is where Joanna Lumley was "cast away" for 10 days in 1994 filming a BBC documentary called "Girl Friday."