Go barefoot or go home: 15 best islands you've never heard of
Pam Grout | 7/8/2013, 7:27 a.m.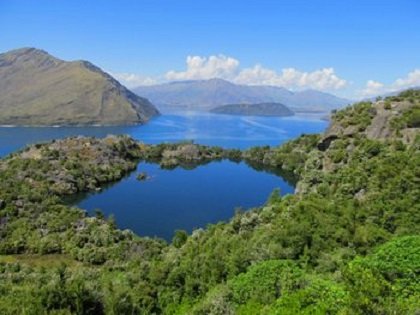 continued — Although she spent half her time in a cave nicknamed "The Albert Hall," this remote island now has an exclusive resort, the only one in the Mitsio archipelago.
Constance Tsarabanjina has 25 villas to go with its three white sand beaches and, if you pack a magnifying glass, you might spot the world's tiniest chameleon. Fully grown, it barely exceeds one centimeter.
Constance Hotels & Resorts, Poste de Flacq, Mauritius, Indian Ocean; +230 402 2999; rates upon request
5. Mou Waho Island, New Zealand
It's an island in a lake on an island in a lake on an island in an ocean.
Near the center of pristine alpine Lake Wanaka, on New Zealand's southern island, Mou Waho is a glacial remnant of the last Ice Age.
Once a stopover for steamers and log rafts, this island has a trek to the top of Tyrwhitt Peak and Arethusa Pool, a nice spot for ambitious picnickers.
Co-owned by ex-Antarctic ice diver Chris Riley, Eco Wanaka Adventures offers tours to this unique island that serves as home to several threatened species.
Eco Wanaka Adventures, Wanaka, New Zealand; + 64 3 443 2869; day trips start at $284
6. Magdalen Islands, Quebec, Canada
If Cape Cod's golden beaches and Ireland's green hills had a love child, it might look like Magdalen Islands, a getaway for Montrealers.
Each of this Gulf of Saint Lawrence archipelago's dozen or so islands has its own history and dialect, but they're all connected with an efficient road system that takes in sweeping dunes, ochre cliffs and pastel-colored homes.
Beaches are everywhere and the islands' many inns and restaurants know what to do with fresh-caught lobster, scallops, crab and fish.
Tourisme Îles de la Madeleine, 128 chemin Principal, Cap-aux-Meules, Québec, Canada; +418 986 2245.
7. Saba, Dutch Caribbean
Known as the "Unspoiled Queen," Saba, in a rather ironic twist, is a favorite with the LGBT community.
Same-sex marriage is legal here and its commissioner and director of tourism are openly gay.
With 1,800 residents, four villages and only a small harbor, the volcanic island (Mount Scenery is still capable of erupting) near St. Martin is the smallest municipality of the Netherlands and the only one that speaks English and uses the American dollar as its official currency.
Saba has the shortest commercial runway in the world and its one main road, built nine years before there was even a car, was masterminded by a local who defied Dutch and Swiss engineers who said it couldn't be done. Josephus Lambert Hassell started building in 1938 with five friends after taking a correspondence course in engineering.
Saba, Dutch Caribbean tourism office
8. Quilalea, Mozambique
This 86-acre private island sits in the middle of a protected Indian Ocean marine sanctuary.
Until 2011, when Christopher and Stella Bettany built nine coral and thatch villas, its only residents were nesting sea turtles and a sizable menagerie of wildlife.
Azura at Quilalea eco-resort offers a clifftop spa, a trail leading to dense baobab groves and sailing trips on traditional Mozambican dhows.