Go barefoot or go home: 15 best islands you've never heard of
Pam Grout | 7/8/2013, 7:27 a.m.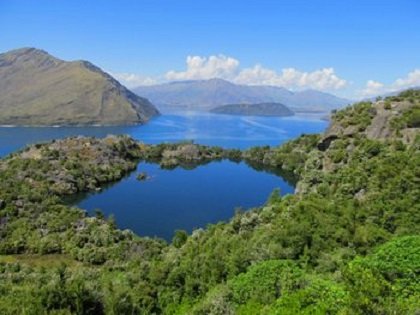 continued — Azura at Quilalea; +27 (11) 791 0519; $25,000 per night for the whole island
9. XXXX Island, Australia
Man caves out. Man islands in.
The reason XXXX island is little known is because it's still in diapers.
It was only hatched a year or so ago when beverage company Lion, which owns the XXXX Gold brand, leased the 15-acre property, acquired naming rights (the island used to be called Pumpkin Island) and started holding promotional competitions.
The island is now the ultimate beer paradise, with a pool table, darts, a golf course (OK, it has one hole), Xbox room, rods and tackle, a bar showing nonstop sports and huts with names like The Locker Room and the House of Rock.
You can't rent those huts, but you can win vacations here along with three of your closest buddies.
Contest winners started showing up in late 2012 for coming up with such creative schemes as beer butlers, football goals set in the ocean, a spray sunscreen booth, tree houses with fireman poles and a "loo with a view," a glassed-in bathroom overlooking the ocean.
Off the Capricorn Coast, Great Barrier Reef, Australia; free if you win one of many contests sponsored by XXXX Island
10. Guana Island, British Virgin Islands
This private island has seven baby power beaches, 850 acres and one tiny resort.
As the owners like to say, "It's the Caribbean before it went public."
After being inhabited for 45 years by sugarcane-growing Quakers, Guana was purchased by a couple from Massachusetts who built six stone cottages and invited artists and intellectuals who stayed for months at a time.
Even now, the maximum number of guests is 32, which means everyone is on first-name basis with management -- were the island to be divvied up, everyone would have an average of 30 acres to themselves.
Well, to themselves and flora and fauna that scientists claim is more extensive than on any island its size, anywhere.
Thanks to several long-term restoration programs, Guana is home to such endangered species as Caribbean Roseate flamingos, stout iguanas, red-legged tortoises and the crestfallen travelers which, we're happy to report are birds, not humans.
Guana Island; guests fly to BVI's Beef Island where they're met and taken to the island by boat; all-inclusive rates start at $695 per night for double occupancy
11. Sovalye Island, Turkey
Castle ruins on Sovalye (pronounced SHUH-VAH-LEE-AY) lend credence to the rumor that renegade knights-turned-pirates used this tiny island as a base during the Middle Ages.
Homes, an old city wall, churches and a Roman cistern from the Byzantine period that slid into the sea during numerous earthquakes are scattered throughout the island.
Scented pine and carob forests are a 15-minute boat ride from the port of Fethiye and once you're there everything's undertaken on foot -- no big chore as it takes 45 minutes to walk from end to end of the picturesque coastline.
The 12-room Ece Boutique Hotel offers a private waterfront, restaurant perfect for taking in the sunset and views of the sea from every room. The only other restaurant on Sovalye is owned by Metin Duru, a former filmmaker who puts out quite a spread for less than $10.