Go barefoot or go home: 15 best islands you've never heard of
Pam Grout | 7/8/2013, 7:27 a.m.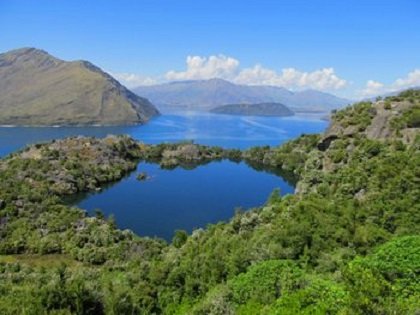 continued — 12. Andros, Bahamas
You may have been to Nassau to gamble with 3 million other casino-goers.
But have you partied with Chickcharnee, the half-man, half-bird that protects the largest (at 5,956 square kilometers) of Bahama's 700 islands?
Or Lusca, the dragon-like sea monster that lurks in the watery depths of Andros' many blue holes?
This island with a veritable melting pot of cultures also has the world's oldest dive shop, the Western hemisphere's second largest coral reef and locals who make waterproof straw baskets, batik and other crafts.
Small Hope Bay Resort; +242 368 2014; all-inclusive rates from $260 per day
13. Song Saa, Cambodia
In the untouched Koh Rong Archipelago, Song Saa is actually two islands, Koh Ouen and Koh Bong, joined by a bridge.
Just 35 minutes by boat from the port of Sihanoukville, its 27 villas resemble a chic Cambodian fishing village -- they were constructed from salvaged timber
Before the Australian owners started building, they put $500,000 into starting a conservation reserve protecting the island's seahorses and turtles. Four staff conservationists can guide you into the island's still deserted oases of virgin rainforests and tropical reefs.
Song Saa Private Island; +855 236 860 360; all-inclusive rates from $668 per person per night.
14. Piel Island, Lake District Coast, Cumbria, UK
On the tip of the Furness Peninsula, 50-acre Piel Island has a king, a castle and a pub.
About 500 years ago, this island, once an abbey for Savignac monks, was the launch pad for an invasion against Henry VII's army.
Peasant Lambert Simnel, posing as Edward VI, tried to regain the throne for avid Yorkists, but the fact that he was a mere 10 years old should have been a clear sign to the 3,000 German and Irish mercenaries who joined him in battle that ignominious defeat was inevitable.
The castle is little more than a stone ruin, but the pub, called The Ship Inn, serves a mean meal of line-caught fish, fresh game and meat either raised on Piel or brought in from nearby Cumbrian farms.
As for the King -- he's crowned in an elaborate ceremony involving a very old throne, a helmet, a sword and alcohol being poured over his head -- is the landlord of the Ship Inn and, according to the registry dating to 1856, is required to be "a free drinker and smoker and lover of the female sex."
Any guest who sits in the Throne Chair is required by Piel Island Law to buy everyone in the pub a drink.
Piel Island; +07516 453 784; Ship Inn rooms from $60 per night.
15. Navarino Island, Chile
In fierce competition with Ushuaia for title of "end of the world," Navarino is remote, wild and beautiful.
It's a holy grail for adventurous backpackers, who go for a five-day circuit through dramatic landscapes of Chilean fjords, glaciers, unspoiled forests and towering granite needles that's little changed since Charles Darwin hiked here in 1832.
Today, Navarino is mainly inhabited by sailors from the Chilean Navy, crab and octopus fisherman, the mestizo descendants of the Yagan, and more than 40,000 beavers imported from Canada in the 1940s.
It's just north of Cape Horn and the place where the Atlantic and Pacific meet, spectacularly.
Next stop: Antarctica.
Navarino, Chile; +56 61 621136
The-CNN-Wire/Atlanta/+1-404-827-WIRE(9473)
™ & © 2013 Cable News Network, Inc., a Time Warner Company. All rights reserved.