Five internship secrets from superstar college interns
Expert: "A great internship is an exploration of what you don't want to do"
Julia Carpenter Special to CNN | 7/10/2013, 6:57 a.m.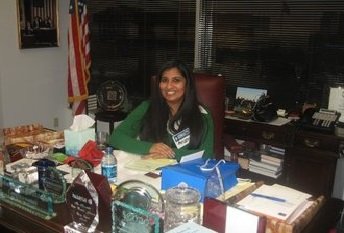 continued — In a structured internship program, there's considerably less room for busy work or (even worse) dead time. Interns' schedules are instead packed with meetings, events or seminars.
Ayah Abo-Basha, a rising junior at Washington University in St. Louis, is interning this summer with Ashoka, a social entrepreneur think tank in Arlington, Virginia.
"I would say there's just enough structure," she says, specifically mentioning how weekly intern meetings can be educational seminars one week and informal socials the next.
Graduate student Max Huleurt is the only intern in the production department of CBS's "GameSpot," so he says he appreciates participating in activities with other CBS interns, such as the lunchtime "Intern Olympics." After socializing and enjoying the free event, he returns to his department, where he collaborates with salaried team members "just like at a real job," he says.
3. Find your role and claim ownership of your projects
The word "ownership" pops up again and again when students describe internship successes.
Tom Pae says this is what separates good internships from great internships. As a LinkedIn global sales operations intern, the majority of his time is spent collaborating with other interns on "meaty" projects and discussing his work with top leadership at the company.
Alex Forss is at eBay for his second summer because he says he feels encouraged to pitch ideas and network with upper management. He's also seen his ideas successfully implemented later -- and he gets credit, too.
"It is a high-paying internship, but the responsibility is the most rewarding part of it," he says. "I just led a conference call with a couple VPs on the phone. They let me do that."
But it's not just tech companies that value collaboration with interns.
At CBS Interactive, Huleurt says he has unlocked the secret to internship happiness: knowing your work has value.
"It's not, 'Hey, intern, go get coffee,' or 'watch me do this,' " he says. "I have a very specific place, and it feels like a real job."
Shara Senderoff founded the website Intern Sushi to match students with good internship experiences. She says identifying your role is critical when later discussing an internship experience in job interviews or within a cover letter.
"If you can't say why your company is doing what it's doing, you don't know anything about the culture or the company," she says. "You need to know the bigger picture of where your work fits in."
4. Bond with your supervisor
At Ashoka, Abo-Basha says she doesn't have an "intern supervisor" -- she has an "accountability partner," a full-time employee also in her field.
"You're a partner, not just a lowly intern," she says. Abo-Basha regularly meets with her accountability partner to give project updates, ask for advice on problems or learn about other opportunities within the company.
But the best supervisors don't just lead -- they also inspire.
When interning for Rep. Eddie Bernice Johnson, D-Texas, in 2010, Anam Iqbal took particular notice of the congresswoman's condolence card routine. Johnson sent personalized cards to the families and friends of recently passed Texans in her district.