Zimmerman case likely in jury's hands in a few hours
Michael Pearson Greg Botelho and Faith Karimi | 7/12/2013, 9:54 a.m.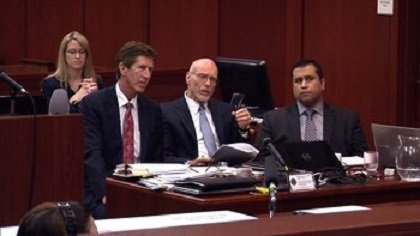 continued — Though confident of his defense, O'Mara said he fears that the jury might consider a compromised verdict.
"We want a verdict based upon the facts and the law and that's an acquittal," he said.
The man tasked with representing Zimmerman said despite the outcome, his client will not feel safe.
"There are a percentage of the population who are angry, they're upset, and they may well take it out on him," he said.
A nation, divided
The case has divided the nation on issues of race and gun laws.
After the shooting happened last year, police did not initially charge Zimmerman, citing Florida's "Stand Your Ground" law. The law allows those who believe they are in imminent danger to protect themselves.
Protesters took to the streets in major cities in support of the teen's family. Some wore hoodies, the same as Martin the night he was killed.
In April last year, the Florida state prosecutor stepped in and charged Zimmerman.
Supporters have maintained that the black teen was a victim of racial profiling, tailed by the defendant over the objection of police dispatchers, then wrongly shot down. Zimmerman is Hispanic.
Mother vs. mother
Both mothers of the victim and the defendant have testified that an anguished voice heard in a 911 tape is their respective sons. The fateful winter night, residents made 911 calls to report the altercation, and audio of someone yelling for help is heard in the background.
Various neighbors called 911, and described what they saw and heard. But no one saw the entire altercation, according to testimony.
Others described hearing a gunshot.
The prosecution has said the lack of Martin's DNA on the pistol Zimmerman had disproves defense arguments that the teen grabbed the gun during the struggle.
Foam dummy, mystery
The deliberations cap a week of drama that included both sides using a foam dummy to explain the struggle between the two.
Both sides have used unusual means to prove their case.
Thursday's closing argument marked the return of the dummy that appeared a day earlier when O'Mara used it to show jurors the competing theories of what happened the night Martin died.
This time it was de la Rionda's turn to characterize Zimmerman's account.
While the teen allegedly punched him, slammed his head and covered his neck and mouth, the prosecutor questioned how he could have reached for the gun that Zimmerman said was in a holster inside his waistband.
HLN's Grace Wong, Graham Winch, Amanda Sloane, Jonathan Anker and Anna Lanfreschi and CNN's John Couwels and Mayra Cuevas contributed to this report.
The-CNN-Wire/Atlanta/+1-404-827-WIRE(9473)
™ & © 2013 Cable News Network, Inc., a Time Warner Company. All rights reserved.