Despite outrage, federal charges uncertain in Zimmerman case
Federal hate crimes laws require proof of racial motivation, legal experts say
Carol Cratty and Tom Cohen | 7/16/2013, 6 a.m.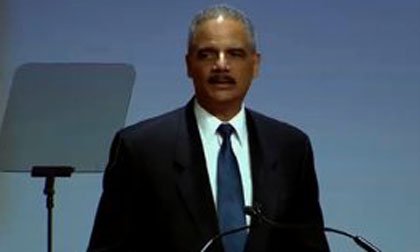 WASHINGTON (CNN) — In the emotional aftermath of the Trayvon Martin killing last year, Attorney General Eric Holder signaled the unlikelihood of filing federal hate crimes charges against admitted shooter George Zimmerman.
"For a federal hate crime we have to prove the highest standard in the law," Holder said in April 2012, 45 days after Zimmerman shot the African American teenager in what was depicted by civil rights groups as a racially motivated killing.
In words that now sound prescient, Holder described to reporters that day how "something that was reckless, that was negligent does not meet that standard."
"We have to show that there was specific intent to do the crime with requisite state of mind," he said.
Zimmerman's acquittal of state murder and manslaughter charges on Saturday showed the Florida jury rejected that he intended to kill Martin for any reason, including the racial motivation necessary for federal charges that he violated Martin's civil rights.
The Department of Justice opened an investigation into the Zimmerman case last year, and a statement from the agency on Sunday said it was ongoing and will now include evidence and testimony from the Florida trial.
Holder said in a speech on Monday that the Justice Department would "continue to act in a manner that is consistent with the facts and the law."
"Independent of the legal determination that will be made, I believe that this tragedy provides yet another opportunity for our nation to speak honestly about the complicated and emotionally charged issues that this case has raised. We must not - as we have too often in the past - let this opportunity pass," Holder said in prepared comments.
Separately, the White House said President Barack Obama would play no role in deciding whether federal charges are filed.
Obama spokesman Jay Carney said "cases are brought on the merits and the merits are evaluated by the professionals at the Department of Justice."
The president on Sunday called Martin's killing a tragedy for America, but said in a written statement that the jury had spoken. He acknowledged the case had "elicited strong passions," but urged "calm reflection."
Still, political pressure for a federal case is mounting.
Demonstrators around the country are calling for Zimmerman to be punished, and hundreds of thousands of people have signed online petitions by the National Association for the Advancement of Colored People (NAACP) that call for federal charges.
However, legal experts make the same point Holder did last year in saying the law limits the federal government's options.
Because Zimmerman is a private citizen, he can only be charged with a hate crime in terms of civil rights violations under federal law, said David Weinstein, a former federal prosecutor in Florida who now is in private practice.
To successfully prosecute Zimmerman, the Department of Justice would have to show that Zimmerman "caused the death of Trayvon Martin solely motivated by/because of his race or color," Weinstein told CNN in an e-mail, adding: "This element was absent from the state trial and quite frankly doesn't exist."