Talking to kids about the Zimmerman trial
Parents have sat their children down to talk about how others perceive them
Kelly Wallace | 7/19/2013, 9:48 a.m.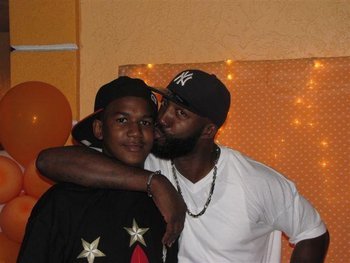 CNN — Amiyrah Martin of Edison, New Jersey, an African-American mom of two, says she and her husband are still trying to figure out how to sit their 8-year-old son down and explain the Trayvon Martin case and its conclusion -- without getting emotional.
"My biggest issue is ... giving him the facts rather than getting upset and giving him how I feel, because I want him to come to his own consensus," the host of the blog Four Hats and Frugal said in an interview. "My husband is the same way. He's very emotional about it ... so he doesn't want him to think, 'Well, Dad feels this way so I should.' He wants him to create his own opinion."
When Martin, who is not related to Trayvon Martin's family, ultimately has the conversation with her little guy, who always "likes to know the why," he'll no doubt ask about race, she said.

"We're going to have to tell him that it may have been due to Trayvon's race, and this is how it happened, and this is how George Zimmerman decided to react to it," she said. "It's going to be very hard to sit him down and have the conversation, but we know we have to do it."
While not everyone agrees that Martin was racially profiled, the case and the protests that followed have led to larger conversations between parents and kids. Some are focusing on race -- Martin was black and Zimmerman identifies as Hispanic, so it's not just a black and white issue. Still, others aren't even talking about race but are focusing on behavior.
But when I set out to interview moms about the verdict, and ask what they are telling their kids, I got two very different responses. African-American moms like Amiyrah Martin were extremely willing and interested to talk about their experiences, while very few moms who were not African-American came forward.
Then I saw a post by Liz Gumbinner, a white mom of two and author of the blog Mom-101, which explained a lot -- that white moms aren't talking about the story, at least not publicly, and they should be,
"I think that non-African-Americans are talking about it privately, but they are nervous to talk about it publicly, and I think this is an ongoing issue in the U.S., that race is still a topic that people are afraid to discuss unless you're a person of color and you're living it every day," Gumbinner told me.
"It's easy for my friends of color who are mothers to say, 'That could have been my kid and it feels personal,' and it's easier for them to speak out and take action the way I think so many white people did with Sandy Hook, for example -- 'That could have been my kid,'" she added. "What's important is for us to remember is that it could have been any of our kids, skin color aside, and so there are so many layered issues that we have to have these conversations."