"Shark Tank" holds casting call for minority-owned businesses during Kingonomics
Ursula V. Battle | 7/24/2013, 3:34 p.m.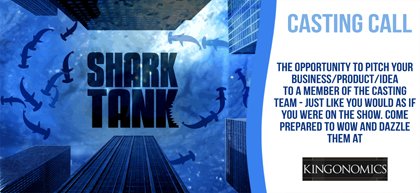 Crowd funding is the collective effort of individuals who network and pool their money, usually via the Internet to support efforts initiated by other people or organizations.
The event will also feature "The Emancipation of Capital Gala" on Thursday, August 22, 2013. The formal affair is designed to celebrate access to capital and crowd funding, and will honor innovators, entrepreneurs and investors who have emancipated and transformed their respective industries.
"Through the Kingonomics Conference, I want to see minority companies get funding via Shark Tank," said Dr. Sampson. "It is very difficult to raise capital, and that is a viable solution."
This event puts minority companies at the front of the class.
He added, "We also want to increase the amount of venture capital that goes to minority start-ups, and to help minority companies become better-prepared for investment. Finally, we want our community to increase crowd funding and to see ourselves as part of the solution. We must invest in our own companies and communities."
Dr. Sampson shares this advice for Shark Tank hopefuls: "If you have one minute to pitch, keep it simple," he said. "You also want to pitch how innovative you are, what differentiates you, how you plan to make money, what's your exit strategy, and your market size."
For more information about the concerence, visit: DC.Kingonomics.com.