Baltimore City NAACP branch receives 2013 Thalheimer Award
7/25/2013, 11:24 p.m.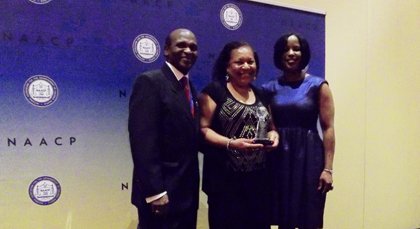 BALTIMORE — Baltimore City NAACP President Tessa Hill-Aston accepted the 2013 Thalheimer Award on behalf of the city branch of the civil rights organization at the National NAACP Convention that was held July 13-17 in Orlando, Florida.
The Thalheimer Award, named after noted Johns Hopkins University educator and philanthropist, Dr. Ross Thalheimer, is the NAACP's top award given to branches and units for outstanding achievements. The Baltimore Branch was selected for among other things its work to pass legislation to support marriage equality and immigrant rights in Maryland; registering thousands of new voters in the city; working to improve re-entry efforts for the formerly incarcerated; and establishing a new city-wide Boy Scout troop.
"The branch has been extraordinarily busy trying to protect the hard fought civil rights gains for African Americans and to break down barriers to equality for all communities in Maryland," said Hill-Aston. "This recognition by the National NAACP is confirmation that we are on the right track and shows that the work we're [doing is] making a difference. We are very humbled to receive the Thalheimer Award again."