Fred Lazarus IV: Arts Educator Creates a Masterpiece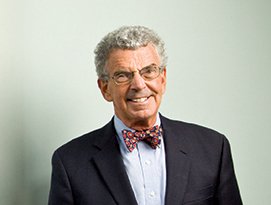 One of America's most influential college presidents has announced plans to retire next year. With bold, metaphorical brush strokes Fred Lazarus' created an academic masterpiece. Under Lazarus' leadership, the Maryland Institute College of Art (MICA) has become an internationally recognized creative design center.
Lazarus came to MICA in 1978 after a stint in the Peace Corps. His academic background made him a surprising choice for an art college— he had an MBA and undergraduate degree in economics. Furthermore, the "canvas" for his masterwork posed its own set of challenges. The school's main buildings were surrounded by several impoverished, crime ridden urban neighborhoods and art schools were falling out of academic favor, as the public's attention began its shift towards science and technology courses.
Nevertheless, over the next 35 years Lazarus successfully implemented the mission of a small, private art college, and sparked revitalization in a community fallen upon hard times.
MICA's enrollment has more than doubled; the size of the campus has increased tenfold; the endowment has grown by more than 25 times; three research centers have been created; and seventeen undergraduate and graduate academic programs have been added. The MFA graduate programs are ranked in the top 10, nationally by US News and World Report.
Parade magazine recently promoted MICA's undergraduate studio arts programs as one of the top two nationwide. Programming instituted by the College in both interdisciplinary study and community and social engagement have sparked international trends in higher education.
"I am very proud of MICA's international reputation as a place where the most talented artists and designers come to understand and begin to realize their potential as cultural and communication leaders," Lazarus said. "I have been able to watch gifted young people come in as freshmen, graduate with all of the promise in the world, and then take their places as art and design leaders, business owners, and catalysts for societal change."
One of the jewels in his professional crown is Artscape, anchored in and around MICA's sprawling campus.
Drawing crowds of over 350,000, Artscape is the nation's largest free arts festival with an economic impact of 26 million dollars. The annual event is credited with bolstering Baltimore's reputation as cultural destination.

Upon the announcement of his retirement the media, politicians and community leaders have been showering Lazarus with well-deserved praise. The Baltimore Sun said, "Maryland Institute College of Art President Fred Lazarus IV is transforming a section of Baltimore through his understanding of the connections among art, education and community development. MICA under his leadership has grown and increased in prominence, but his most permanent contribution to the state may be in the flowering of the Station North Arts District."
"Lazarus' leadership has not only helped empower countless cultural organizations, but also strengthened the state's colleges, arts education in K–12 schools, and even the economy through the thousands of visitors who attend the annual Artscape festival, said Maryland Governor Martin O'Malley. "Because of Fred's legacy, I know that MICA will continue to attract the most creative students to Maryland to learn and eventually become key members of the innovative workforce that makes Maryland unique."