Facing fatherhood, he lost 140 pounds
Tyrone Garrett went from 335 pounds to 194 pounds
Jacque Wilson | 6/17/2013, 6:19 a.m.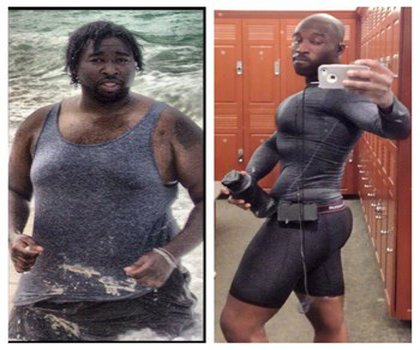 continued — Garrett doesn't allow himself full cheat days -- "the fear of messing up and going backward is still there" -- but he does splurge once in a while on some extra chicken wings or a bigger meal than usual.
There are days when his legs and arms hurt and his bones ache from all the exercise, but he reminds himself that no one else can do the work for him. He's at 194 pounds and wants to reach 180. That said, any extra weight loss at this point is simply a bonus to being healthy.
"As long as I can wake up every morning and breathe in and out, I'm cool with everything else," Garrett says.
He loves to go outside and play with his daughter without breathing heavily or sweating excessively. He likes not having to worry about going to the doctor or taking medications. He's thrilled that others have been inspired by his story; a co-worker lost 80 pounds and several family members have lost more than 50.
"It's coming from me," he says, almost in disbelief. "You never would have thought I would be a lean guy. Sometimes I have to pinch myself to make sure it's real."
Follow Jacque Wilson on Twitter @jdwilson2 and Google+.
The-CNN-Wire/Atlanta/+1-404-827-WIRE(9473)
™ & © 2013 Cable News Network, Inc., a Time Warner Company. All rights reserved.