BGE, Salvation Army and KaBOOM! team up to build a playground for Annapolis Children
The playground, designed by children ages 3 – 15, was built in just one day by volunteers
6/21/2013, 11:45 a.m.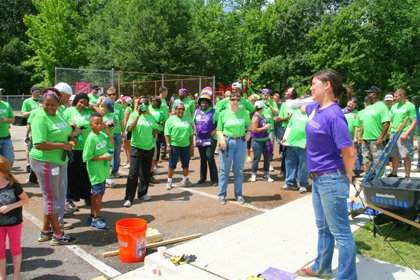 continued — The playground was the first to be built by KaBOOM! and BGE and is one of more than 150 playground builds KaBOOM! will lead across the country in 2013 in an effort to fulfill its vision of a great place to play within walking distance of every child in America. Volunteers constructed the playground in about six hours, which included moving 43,740 square feet of mulch, and constructing picnic tables, all without the use of power tools.
The tools the volunteers used for the build were provided through the Baltimore Community ToolBank, a nonprofit organization that provides an inventory of tools— shovels, rakes, drills and much more— for lending to charitable organizations to increase the impact of their mission-related efforts in the community. For just three cents on the dollar per week, nonprofit organizations, faith-based and educational institutions, community groups, neighborhood associations and their volunteers now have access to the tools and equipment they need to renovate, renew and revitalize.
As part of its commitment to enhancing the communities it serves throughout central Maryland, BGE supports nonprofit organizations through funding and volunteer efforts on programs that help deliver a measurable impact in the areas of education, energy efficiency, environment, emergency response and economic and community development. Together with its customers, BGE actively and enthusiastically teams up with organizations that work to improve the quality of life in the communities where both BGE customers and employees live and work. Since its founding nearly 200 years ago, BGE has played an integral role in working to address economic development, public safety, civic issues and other initiatives that help improve the quality of life in central Maryland.
For more information on BGE's commitment to charitable giving and dedicated employee volunteers, visit: bge.com/ourcommitments.