'Devious Maids': The controversy behind the new Lifetime drama
Some don't see show as an opportunity for Latinos in Hollywood
Cindy Y. Rodriguez | 6/25/2013, 7:35 a.m.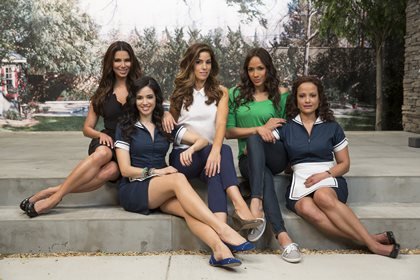 continued — Part of the criticism is the frustration that Hispanics don't have more characters on television that represent them as nurses, doctors and lawyers. Nogales says that to imagine Latinos being represented on-screen as successful professionals before telling the immigrant stories of hardship, assimilation and struggle first just won't work.
Actress Ramirez said on a phone interview with CNN that Cherry has hired two Latina writers, Gloria Calderon and Tanya Saracho, "to make sure that the Latino voices were really present and heard."
"We have, as Latina maids, been portrayed on television and movies, but none of them have been humanized," she said. "None of them are real life stories, choosing to take this role is more interesting to me because I get to tell a story of struggle."
For Ramirez, playing the role of Rosie Falta on the show strikes an emotional chord. Her character is a widow who left her son back in Mexico when her husband died and is working as a maid to help bring him to America.
"Not only do I tell this real compelling immigrant story, but I get to tap into my own experience because my parents had to leave me as an infant with my older sister, Danilda, back in the Dominican Republic and that took a lot of courage," Ramirez said.
Ramirez's mother worked as a clothing factory worker but was a nurse back in the Dominican Republic, and her father was a taxi driver, although he was a chemist back in his home country.
"Now, I finally have a chance to portray the stories of the older generation," said Ramirez. "If we are going to tackle Hollywood, then we need to educate Hollywood first. You gotta start there."
However, Valdes-Rodriguez says that people form their idea of reality by what they see on television. She used the racist comments about the boy from San Antonio who sang the national anthem at the NBA finals as an example of people "who don't know anything about Latinos' different cultures."
"I would advise those people to take a closer look at the people who attacked this boy ... where did they get the idea that we're all illegal immigrants? Well, the opening of the pilot episode of 'Devious Maids' has a boss threatening to deport one of the maids. Is this the only image Hollywood sees of us?"
Ramirez hopes audiences see that the leading ladies on "Devious Maids" as more than maids who are not defined by their jobs who happen to be Latina. Even though Ramirez has played every role from "the hot girl" to a superhero, she asks audiences, "how is that better?"
The-CNN-Wire/Atlanta/+1-404-827-WIRE(9473)
™ & © 2013 Cable News Network, Inc., a Time Warner Company. All rights reserved.