Paula Deen and Southern food: Critics say credit is past due
Critics say African American influence minimized
Kat Kinsman | 6/27/2013, 5:32 a.m.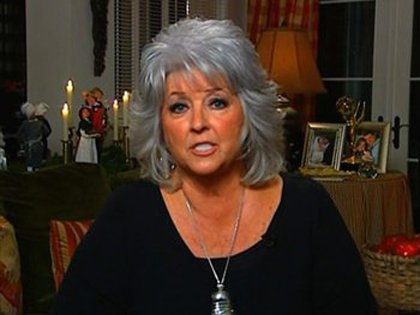 continued — "Paula Deen once did hoecake on her show and never once mentioned that this was the hardtack and daily bread of enslaved people," he adds. So were, "gumbo, okra soup, red rice, fried chicken, black eyed peas, various greens, sweet potatoes, boiled peanuts, cala, jambalaya, hot sauce, barbecue, the list goes on."
In Deen's autobiography, "It Ain't All About the Cookin'," Deen touches on her dealings with the African-American community in her hometown, saying, "None of us were strangers to the black community, although they seemed to live their lives and we lived ours. I would say we lived a pretty unexamined life in terms of politics or civil rights."
Perhaps if Deen were just "a cook" and not "the Charles Barkley of food," as Syracuse University scholar Boyce Watkins argued in a discussion with Davis on CNN's AC360, that lack of context around her food would be understandable and even acceptable. But as Davis pointed out, "She's a brand."
That brand reportedly pulled in more than $17 million dollars in 2012 alone, and Davis ascribes Deen's lack of connection in some part to that level of success.
"We all related to her when she was at the bottom and worked her way up, " Davis says. "When you put money in it and you're in a different class, you get all the benefits of being white and privileged. Your sensitivity and need to know about us goes away. There's nothing in your life that brings about the urgency of knowing about the culture you're benefiting from."
Twitty and Davis are both eager to have some potentially difficult and painful conversations - over a meal.
Twitty is on a mission of reclamation and healing in a project he calls The Cooking Gene. He spent much of 2012 on the "Southern Discomfort Tour," visiting the former plantations where his ancestors were enslaved, meeting the descendents of the people who claimed ownership over his family, and sharing meals together. Through breaking bread in these haunted locales and having difficult conversations with people of all races, Twitty seeks to dispel any romantic notions of slavery, and begin to heal.
"I think the enduring myth is that slavery was a time when blacks knew their place, didn't make trouble and served as the perfect status symbol of Western superiority and white supremacy. Nothing could be more un-American or untrue," Twitty says.
"People who worked in the 'big house' didn't have it easy. Women and men who cooked and served usually had one of three fates. They were often treated abusively and savagely punished; they could be family figures of great respect and trust or they were autocrats who used their unique role to carve out a special power niche with lines and boundaries not to be crossed."
Cooking meant power in many cases, Twitty says, and per plantation records, good cooks were often "worth" more than a "plain" or "tolerable" cook.
There's power in owning your culture's narrative, Davis says, and it's painful when a thing that should be a great source of pride and joy is instead used as a vehicle for shame. "Fried chicken is creative. Collards with smoked neckbones is creative," Davis says.