When zero tolerance makes zero sense
Minor incidents have major consequences
Jayne Matthews Hopson | 5/9/2013, 4:53 p.m.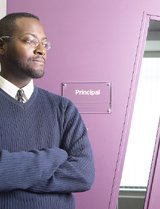 continued — A policy research report by Indiana University examines the history, philosophy and effectiveness of zero tolerance school disciplinary strategies. The following extract is an excellent departure point for a thoughtful consideration of these policies:

Growing out of Reagan-Bush era drug enforcement policy, zero tolerance discipline attempts to send a message by punishing both major and minor incidents severely. Analysis of a representative range of zero tolerance suspensions and expulsions suggests that controversial applications of the policy are not idiosyncratic, but may be inherent in zero tolerance philosophy.
There is as yet little evidence that the strategies typically associated with zero tolerance contribute to improved student behavior or overall school safety.
Research on the effectiveness of school security measures is extremely sparse, while data on suspension and expulsion raise serious concerns about both the equity and effectiveness of school exclusion as an educational intervention.
Community reaction has led some districts to adopt alternatives to zero tolerance, stressing a graduated system matching offenses and consequences, and preventive strategies, including bullying prevention, early identification, and improved classroom management. Building a research base on these alternatives is critical, in order to assist schools in developing more effective, less intrusive methods for school discipline.
Jayne Matthews Hopson, an education writer and mother of three school-aged children believes that "education matters, because only the educated are free."