Doctor raises money for obstetric fistula surgeries
A fate worse than death for some African women
Morgan Winsor | 5/25/2013, 7:13 a.m.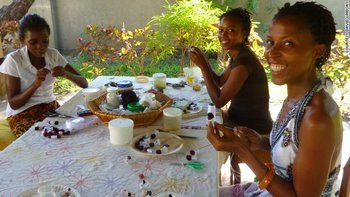 continued — But pregnancy complications and childbirth are among the leading causes of death and disability for African women, Wall says.
Typical West African hospitals do not have the trained staff or resources to identify and treat fistulas, Heller says.
"Habsu," one 32-year-old woman in Heller's study, contracted a fistula in her ninth pregnancy and has had three previous surgeries, all of which have failed. During the latest pregnancy, she was in labor for several days at home in a rural village before receiving medical care. Like many African women, she was malnourished and her pelvic bones were too small for a natural birth.
After hours of unsuccessful labor and not knowing how to perform a cesarean, the doctors used a scalpel to sever the baby inside the woman's birth passage. Over the next few days, the mother delivered her baby, piece by piece, Heller says.
Another West African woman in Heller's study, "Amina," also has a severe fistula but only leaks when she sits down. After the seated interview with Heller, Amina apologized, saying she would leak urine once she stood up.
"It was as if a gallon of water was thrown to the ground," Heller says. "She was so ashamed."
Many Africans -- both educated and uneducated -- believe there is no cure for fistulas, Paluku Lussy says. When he was in medical school at the University of Goma, he says, "they used to tell us not to even try to fix them."
But, he says, that's not the case. Fistulas can be repaired with delicate surgery, which has a fairly good success rate. However, surgeons must be well-trained in the principles of the operation, and good follow-up care is essential so the surgery won't fail. Patients with more severe fistulas may need multiple surgeries.
Although he is a full-time professor, Wall last year opened the Danja Fistula Center in Niger, a 42-bed hospital specializing in fistula repair surgeries with an operating room, outpatient clinic and hostel facilities for about 100 women.
Since opening the fistula center, Wall estimates the facility has taken on 50 fistula cases per month.
But it's very difficult to get trained staff to run a fistula hospital, because of the lack of available education in Africa, he says. Fistula centers rely on donations and cannot afford to hire American gynecologic surgeons.
But even they aren't ideal candidates for the job -- since they never see fistula in their own country, they have no experience with it, he says. It's best to have the institution run by locals trained specifically in fistula repair surgery and care.
Those who want to help should focus on spreading the word -- awareness is key, he says. Thursday is the first International Day to End Obstetric Fistula; the United Nations Population Fund will host a variety of events to raise awareness.
That's true for Washington resident Olivia Bowen. She had never heard of obstetric fistula until she read a book featuring a detailed story of an African woman with the condition. Bowen was shocked at how affordable fistula repair surgery is, by Western standards.
Bowen started a fundraiser called "One Week to End Fistulas," which raises money for repair surgeries for underprivileged women who otherwise lack access. She asks that participants practice yoga daily for a week and raise enough money for one woman to have fistula repair surgery.
"I'm not a runner. I do yoga. So it's something that just came naturally to me," Bowen says.
So far, participants have raised about $2,250, or enough to fund five surgeries.
Bowen, who is in the process of making the fundraiser a nonprofit organization, says she hopes to help women who have already developed fistula, while the bigger organizations tackle other issues such as poverty, maternal health and human rights. Ultimately, she says, fistula is not just a women's issue; it's a human issue.
The-CNN-Wire/Atlanta/+1-404-827-WIRE(9473)
™ & © 2013 Cable News Network, Inc., a Time Warner Company. All rights reserved.