5 things about the controversy surrounding AG Eric Holder
Holder under fire for phone records, subpoenas
Tom Cohen/CNN | 5/30/2013, 11:20 a.m.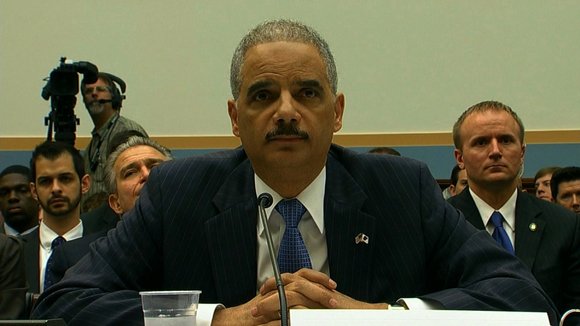 WASHINGTON — Attorney General Eric Holder, a political lightning rod for Republican critics of the Obama administration, is under fire for two cases involving secret subpoenas or searches for phone records and other information of journalists involved in reports about leaked classified information.
What's the problem?
In the first case, the Justice Department last year obtained two months of phone records for reporters and editors at The Associated Press as part of a probe that the news service said was focused on its account of a foiled plot to bomb a U.S. airliner in May 2012.
The second case involves subpoenas and search warrants in 2010 to obtain phone records, e-mails and security badge tracking of a Fox News correspondent who reported on classified intelligence about North Korea in 2009.
Members of the press and critics led by Republican foes of Holder complained the covert surveillance amounted to targeting journalists as potential criminals, which would chill investigative reporting and potentially violate First Amendment rights of a free press.
In the investigation of leaks to the AP, employees of the news service were never singled out as potential criminals.
However, the affidavit for a search warrant in the Fox case included an FBI agent's statement that a network reporter -- later identified as James Rosen -- could potentially be an "aider and abettor and/or co-conspirator" to the crime of disclosing secret information.
In addition, Justice Department officials confirmed that Holder took part in "discussions" about seeking the search warrant.
The Justice Department did not prosecute Rosen, nor did it file charges against him. While he was listed as a "co-conspirator," that often does not mean he would be considered a target.
Last week, President Barack Obama ordered Holder to review government practices in investigating leaks of secret information.
His administration has been more aggressive in probing classified leaks than those of his predecessors, but Obama said he was "troubled by the possibility that leak investigations may chill the investigative journalism that holds government accountable."
Some Republicans complained that Holder's involvement meant he would be reviewing himself, due to the affidavit that said he took part in discussions on a search warrant of Rosen's phone records and emails.
What are the latest developments?
On Wednesday, the GOP leaders of the House Judiciary Committee sent Holder a letter asking for further information about whether he lied to Congress when he said at a May 15 hearing that he never took part in any "potential prosecution of the press for the disclosure of material."
"... That is not something that I have ever been involved in, heard or, or would think would be wise policy," Holder said in response to questioning by Democratic Rep. Hank Johnson of Georgia on possible use of the Espionage Act to prosecute members of the news media for publishing classified information.
The letter to Holder from committee Chairman Bob Goodlatte of Virginia and Rep. James Sensenbrenner of Wisconsin noted that the affidavit for the search warrant for Rosen's phone, e-mail and security badge information only became public after the May 15 hearing.