5 things about the controversy surrounding AG Eric Holder
Holder under fire for phone records, subpoenas
Tom Cohen/CNN | 5/30/2013, 11:20 a.m.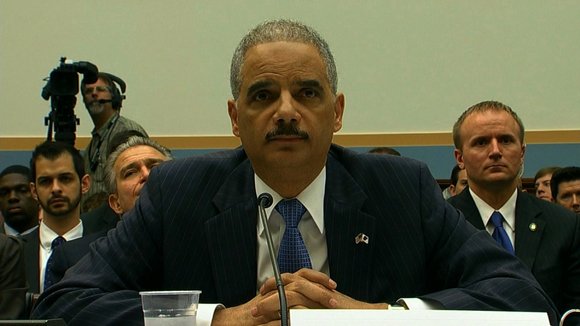 continued — They questioned whether Holder's response to Johnson's question amounted to lying under oath because of subsequent media reports that the Justice Department confirmed Holder took part in discussions on seeking a search warrant.
"How can you claim to have never even heard of' the potential prosecution of the press but were, at a minimum, involved in discussions regarding Mr. Rosen?" asked the letter by Goodlatte and Sensenbrenner.
While Holder was asked about the AP case at the May 15 committee hearing, the issue of the Fox reporter never came up.
White House spokesman Jay Carney said Wednesday that no prosecution ever took place in the Fox case, and therefore it was "self-evident" that any charge Holder lied to the House panel was "inaccurate."
Implying that Republicans were playing politics, Carney said reporters should "be careful not to conflate facts with statements by members of Congress about what they want to be true." Pressed further, he added that reporters were "conflating a subpoena with prosecution."
Asked if Obama still had full confidence in the attorney general, Carney replied: "He absolutely does, yes."
On Tuesday, Rep. John Conyers of Michigan, the ranking Democrat on the House Judiciary Committee, said Holder "was forthright and did not mislead the committee" on May 15.
"Certainly, there are policy disagreements as to how the First Amendment should apply to these series of leak investigations being conducted by the Justice Department and that is and should be an area for the committee to consider," Conyers said in a statement. "However, there is no need to turn a policy disagreement into allegations of misconduct."
Meanwhile, a Justice Department official said Wednesday that Holder will meet with officials from media organizations this week as part of his review of how the federal government handles leak investigations.
The meetings with chiefs of Washington bureaus will begin Thursday and include representatives from newspapers, wire services, radio and television broadcasters, and online organizations, the official said.
What's the background?
With an eye toward the 2014 congressional elections and the 2016 presidential campaign, Republicans are trying to depict the Obama administration as rife with scandals.
These include the two cases involving Holder as well as IRS targeting of conservative groups and erroneous talking points about the Benghazi, Libya, terrorist attack.
Like many attorneys general, Holder has been a focus of political attacks throughout Obama's White House tenure.
In particular, conservative Republicans have taken aim at Holder over efforts to close the Guantanamo Bay, Cuba, detention facility, a decision to stop enforcing the Defense of Marriage Act, and the handling of the botched "Fast and Furious" gun-walking program.
At the same time, Holder has been praised by Obama and liberals for taking a lead role on socially progressive issues such as gay marriage and immigration.
Last year, House Oversight Committee Chairman Rep. Darrell Issa of California led a GOP effort to cite Holder for contempt of Congress in a dispute over documents the panel sought in the "Fast and Furious" investigation.
Issa and other Republicans said Holder refused to turn over requested documents necessary for a full inquiry of the program in which federal agents allowed illegal weapons sales across the border with Mexico, then lost track of the firearms.