Young golfer aspires to greatness
Stacy M. Brown | 11/4/2013, 6:27 a.m.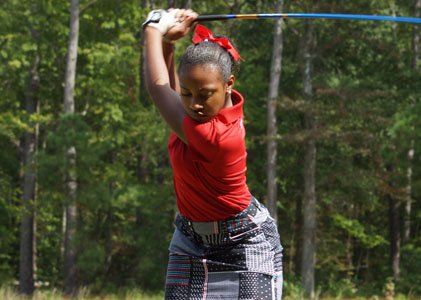 Budding golf superstar Micaa Thomas needs to be on everyone's radar. At 15, the Bowie, Maryland, high school junior has blazed her way into a world that remains less than hospitable to blacks despite the unparalleled success of Tiger Woods.
"My mom was playing golf when she was pregnant with me, so that's where it all started," Micaa said. "I've traveled to play at different places, like Canada, Ohio and all around the United States and I love it."
That love has led to an eye-popping year on the links for Micaa, who attends Archbishop Spalding High School in Severn, Maryland. She aspires to join the Ladies Professional Golf Association (LPGA) and follow in the footsteps of another young African American great, Ginger Howard, who turned pro at 17.
Prior to turning pro two years ago, Howard, now 19, won 78 trophies, ranking first in 41 out of 66 events. She made history as the youngest member of the LPGA, successfully petitioning the association to play in its qualifying tournament in 2012 just before she turned the mandatory 18 years of age.
Micaa's trophy shelf already rivals Howard's. In 2013, she added to her impressive resume, a medalist and champion of the Chuck Cohen Invitational Minority Golf Championship, which she won in Toledo, Ohio, in August.
At the BPO Elks Youth Invitational Tournament of Champions in Seven Springs, Pa., in July, Micaa shot an 81 and a 79 to capture first place honors.
She also won the Maryland State Golf Association Women's Amateur Championship 4th Flight at the Elkridge Country Club in Baltimore, a contest open to all challengers including collegiate golfers warming up for the upcoming National Collegiate Athletic Association golf season.
A member of the Tiger Woods Junior Golf Team, Micaa also earned the crown as the Amateur Athletic Union National Golf Champion in the 16 and under division held in Greenville, Tenn.
Numerous other golf awards, medals, trophies and accolades decorate Micaa's home.
"We are extremely proud of her," said Michael Thomas, Micaa's father. "Academically, she maintains a 3.8 grade point average and right now, she's met the requirements for the National Honor Society," he said.
Cheryl Thomas, Micaa's mother, said being the only child and a victim of constant bullying were the primary reasons she and her husband began giving Micaa golf lessons.
"She was in middle school and, being the only child, she didn't know how to deal with conflict," Cheryl Thomas said. "I was looking for a sport where she could excel on her own ability, not a group thing. She participated in tennis and swimming and she played the piano and other things. She played basketball and softball, but she was always being bullied," she said.
Micaa already has demonstrated three key strengths essential to excelling at golf: sacrifice, determination and faith, traits necessary especially for African Americans in a sport with large tee-time fees, club memberships and equipment.
"My determination is there. It's to do well," Micaa said, undeterred by the realities of the sport she loves.