Young golfer aspires to greatness
Stacy M. Brown | 11/4/2013, 6:27 a.m.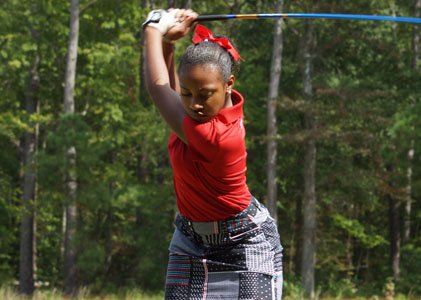 At first glance, Micaa seems like any other teenager. However, with several years of
golfing experience already under her belt, Micaa has the confidence of a seasoned veteran despite being just 15.
To achieve her goals, it has taken an extraordinary family effort. Both of her parents work full-time, but each takes time off, sometimes unpaid leave, to travel with Micaa and pay the high fees at the various golfing events around the country.
The support from her parents impresses Micaa and provides additional motivation, she said. "It costs a lot of money to do this, but the sacrifice is worth it," Michael Thomas said. "We find ways to pay for these things, but it's not easy."
Cheryl Thomas even caddies for her daughter, as it could cost at least $1,000 to hire a caddy for one tournament.
"Micaa's determination and the amount of effort she puts in are amazing," Cheryl Thomas said. That determination proved itself in a big way on a hot, humid and otherwise brutal day in July when Micaa played at a tournament in Greenville, Tennessee.
From a tee-shot, Micaa's ball landed in a thick brush off the fairway. As she contemplated announcing the ball unplayable, which would have meant the loss of a stroke, Cheryl Thomas conferred with her daughter and Micaa ultimately crawled into the thick brush, and hit a Tiger Woods-esque shot that more than raised eyebrows.
"She won that tournament by 11-strokes," Thomas said. "Not too many girls would have done that."
Micaa, who draws and paints pictures of golf courses in her spare time, says that concentrating on the game and not the elements are important.
"What goes through my mind is one shot at a time and every shot has a purpose," Micaa said. "If your first drive isn't that great, I don't think about it. I go for the green and take a bogey if I have to."
For additional information about Micaa Thomas, visit her website at www.micaathomas.com.