Scenes of hope and devastation after Typhoon Haiyan
Paula Hancocks, Andrew Stevens and Ivan Watson | 11/11/2013, 6:05 a.m.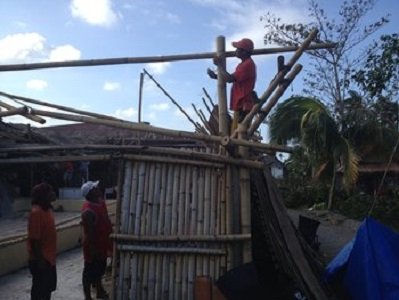 TACLOBAN, Philippines (CNN) — Amid desperation, some hope.
Food, water and medical supplies were in dangerously short supply. But the U.S. Marines arrived in one of the more dramatic signs of progress Monday, three days after Typhoon Haiyan swept through the Philippines.
Here's a look at some of the scenes CNN reporters have witnessed in the aftermath of the massive storm:
Marines: "There's a lot we can do."
Brigadier Gen. Paul Kennedy arrived at the Tacloban airport at the head of a U.S. Marines relief effort that includes helicopters as well as four huge C-130 aircraft to ferry in relief supplies.
Kennedy received a warm greeting from a Filipino officer and projected confidence in an interview with CNN's Paula Hancocks.
"There's a lot we can do," Kennedy said.
Kennedy said his marines will set up floodlights and radar to keep the airport operating after dark.
Not far away from the military operation, passengers lined up in the damaged terminal for commercial flights.
Runways blocked by trees this weekend had been cleared, and passenger jets were on the tarmac. Local airlines were working together on flight plans.
Hospital without supplies
A hand-drawn sign at the front of St. Paul's Hospital in the city of Tacloban gives a sense of the dire situation there.
"No admissions," it says. "No supplies."
Without electricity at the large private hospital in this storm-ravaged city, workers were using head lamps for light as they performed emergency first aid on victims who streamed in with wounds on their arms and legs from flying debris.
"We just can't keep going," one doctor said. "There's just no supplies."
Searching for family lost in the storm
Splintered wood beams cover the ground where roads once connected a neighborhood about 100 meters from the coastline.
Here, the storm surge plowed down homes, leaving behind mounds of rubble as far as the eye can see.
Authorities pleaded with residents in the coastal area to evacuate as the storm approached. It's unclear how many did, and how many may be missing.
Amid the chaos, one man said he was searching for his father, brothers and uncles under the rubble.
"We all tried to leave, but it was too late," he said. "I got separated when the waters started rising. I don't know what happened to them."
Devastation for miles
From the air, the damage to Tacloban is striking.
Forests of palm trees were mowed down on hills surrounding the city.
Inside the city, the damage is catastrophic.
The storm surge shoved massive freight ships ashore.
Many buildings were flattened. Those that weren't had large chunks ripped away by ferocious waters and winds from the storm.
William Hotchkiss, general director of the Philippines' Civil Aviation Authority, said he'd never seen anything like it in decades of flying over the country after storms.
He said he feared his country faces more disasters like this in the future.
"The biggest challenge," he said, "is to sort of come up with structures that will take into consideration what they call 'the new normal' -- storms that are maybe as destructive as this one."