Diabetes spreading around the world
Jacque Wilson | 11/14/2013, 10:22 a.m.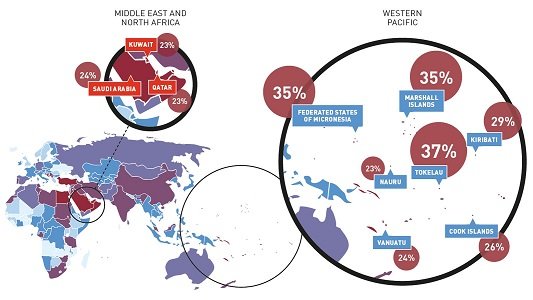 continued — The Middle East and North Africa currently have the highest rates of adult diabetes prevalence compared to other world regions, according to the report, but Africa will see the greatest increase in cases over the next two decades. Urban centers in Africa are showing higher prevalence rates than cities in Europe, Guariguata said, and many cases go undiagnosed and untreated because of a lack of awareness in these countries.
In addition to those that already have diabetes, IDF estimates 316 million people have IGT, or impaired glucose tolerance -- also known as prediabetes. These are people at a high risk of developing the disease.
"There is no country that has solved the problem for diabetes and no country has gotten it right," Guariguata said. "The good news for all of this is diabetes is imminently treatable, with cheap generic drugs that are available and (with) lifestyle change. We're not looking at a disease that we have absolutely no response for."
Here are some other significant statistics from the IDF report:
-- An estimated 5.1 million people died of diabetes-related complications in 2013
-- 17% of babies in 2013 were born to women with high blood sugar levels, a sign of gestational diabetes, which Guariguata says will contribute to the global diabetes burden in years to come
-- More than 79,000 children developed Type 1 diabetes in 2013; that's up from 77,800 in 2011
-- The equivalent of $548 billion was spent on health care for diabetes patients around the world in 2013
The-CNN-Wire
™ & © 2013 Cable News Network, Inc., a Time Warner Company. All rights reserved.