O'Malley testing the 2016 waters in New Hampshire
Erin McPike | 11/18/2013, 5:51 a.m.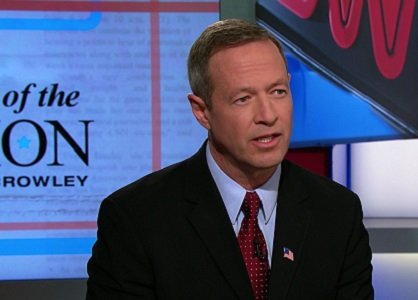 CNN — Maryland Gov. Martin O'Malley hoped to turn heads in New Hampshire this weekend and get his share of the early speculation surrounding the 2016 presidential race with a buzzy new video about his leadership credentials.
On Saturday, O'Malley headlined the Granite State's annual Jefferson-Jackson dinner, a fundraising event for the state Democratic Party familiar to others who have been on the presidential primary campaign circuit. A three-minute video served as part of the crowd's introduction to the White House hopeful.
Baltimore's falling crime rate is its focal point: It has long been considered one of the country's most dangerous cities and is the basis for HBO hit crime series, "The Wire."
Over black-and-white photos of shuttered storefronts and crime scenes, the video depicts late-1990s Baltimore as "a cauldron of crime, drugs and profound despair."
It was O'Malley who "walked its mean streets" and "formulated an assault on hopelessness." He used a data collection service called CitiStat to log crimes in Charm City, which he said resulted in the largest 10-year reduction of crime in any U.S. city.
His critics said his claims were questionable, and a Washington Post study wasn't able to verify them.
Nonetheless, O'Malley tried to draw on that turnaround experience by applying it to the governorship. He inherited a $1.7 billion deficit and under-performing schools upon taking that office. But under O'Malley, Maryland clocked five straight years as the nation's best-performing state for public schools, according to the independent publication Education Week. The video cites a variety of other measures that ranked Maryland as the best-performing state, as well as Governing Magazine's naming O'Malley one of the eight best public officials in the country in 2009.
The fix-it, turnaround message is what Mitt Romney tried in both of his failed bids for president. But O'Malley also extends several carrots to liberals: As governor, he improved the environment in the Chesapeake Bay and got some climate change legislation passed; and he successfully pushed for laws allowing same-sex couples to marry and undocumented immigrants to receive in-state tuition.
In addition to the video befitting a national political convention-style rollout, O'Malley offered the keynote speech to the crowd of some of the country's most active Democratic voters.
In his remarks, O'Malley used another parallel to hint that he may be the man for the moment.
He described the hopelessness pulsating through Baltimore when he took the city's reins, and he explained how he launched an initiative called "Believe" made of dramatic four-minute ads that demonstrated how grim the drugs and violence were that gripped the city. Local stations ran the spots to raise awareness about how bad the situation was.
Similarly, he intimated the problem that America as a whole needs to recognize now.
"Like Baltimore in 1999," he told the Manchester crowd Saturday night, "we -- as Americans -- are going through a cynical time of disbelief." He said he's had enough of the cynicism, apathy and low expectations and stressed the need for better attitudes about government and more work.