OSI Baltimore announces new community fellows
11/19/2013, 6 a.m.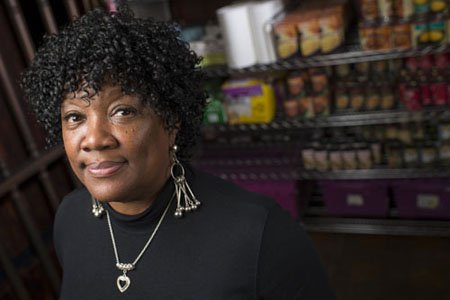 continued — "So many people have this idea, a glamorization of what being a prostitute - what being exploited - looks like. The idea is that it is choice-driven," Yates says. "But people just get sucked into this. And then they're just stuck. No one wakes up and wants to be a prostitute."
Another fellow, Bernice Bishop will use the 18 months of her fellowship to expand a successful food-and-necessities pantry she began some years ago into an education and training center that helps women in need develop essential life skills.
The Women Empowering Women Education and Outreach Center will add such programs as financial and budget management, credit repair, GED preparation, parenting and family restoration, and small business planning to complement services Bishop currently provides women.
"People always say that they want to teach people things so they won't need assistance from others. But if I'm hungry and my child needs Pampers and we don't have toothpaste, then it's going to be hard to get my full attention," says Bishop, who grew up poor - and sometimes hungry. "You have to holistically help people."
Just in time for Veterans Day, fellow Bill Tiefenwerth will launch his project, Veterans in Partnership (VIP), which will pair veterans who have had a difficult time finding meaningful employment with middle school students at James McHenry Elementary/Middle School in West Baltimore. The program, which will include physical education and enrichment programming as well as STEM (science, technology, engineering and math) components, will also provide mentoring and job counseling to the veterans.
Fellows Matt Hanna and Ulysses "Coach U" Cofield will each work to reach young black males— Hanna through lacrosse and Cofield through basketball— and help them rise out of challenging circumstances and succeed.
Fellow Lanaea Featherstone will use technology and mentoring to engage Latino immigrant parents and caregivers in an effort to help them find and keep better jobs and
fellow Megan Leschak will work to reduce recidivism by forcing those who work in the criminal justice system to recognize the real connection between trauma and criminal behavior.
In one project, students will use graphic design and architecture, among other tools, to develop socially conscious community projects. Other projects will touch on such issues as the rights of the city's disabled community and those of renters in low- and moderate-income housing who have fallen on hard times.
A seven-person committee selected the 12 fellows after extensive evaluation, including peer reviews, site visits and interviews.